Parma Fire Department Awarded Nearly $1.7 Million In Federal Funding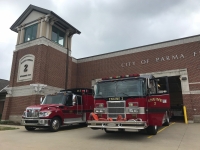 Parma Mayor Tim DeGeeter and Fire Chief Mike Lasky recentlyannounced that the Parma Fire Department will be awarded nearly $1.7 million in federal grant money to hire eight new firefighters and purchase 103 portable radios, three station exhaust capture systems and one filling station. The more than $1 million to hire eight firefighters was awarded through the Department of Homeland Security's Federal Emergency Management Agency's Staffing for Adequate Fire and Emergency Response (SAFER) grant program. The SAFER grant is a 90/10 cost-share. The fire department will spend $147,000 annually over the next two years to help cover salaries. "We need a fully staffed fire department to keep pace with the safety demands of a city our size," DeGeeter said. "This grant provides us with critical funding to help us replace firefighters who retired or transferred to other departments. This will reduce overtime and allow us to continue to provide the quality service our residents have come to expect and deserve. I appreciate the support we received from ourU.S. representatives and our U.S. senators to help us secure this grant money. Our fire, police and engineering departments, as well as our Grants Coordinator Shelley Cullins, are proactive at applying for grants."
Lasky is extremely happy about receiving the grant money and the positive operational impact the funding will have on the fire department and the city. "It's a very competitive grant across the country. This is the third time we've received this grant, which is basically unheard of."
The Federal Emergency Management Agency (FEMA) within the Department of Homeland Security established the SAFER grant program to provide funding directly to fire departments. SAFER's goal is to enhance local fire departments' abilities to meet staffing, response and operational standards established by the National Fire Protection Association and the Occupational Safety and Health Administration. "Our goal is to provide outstanding safety services to our community, and the SAFER funding will allow us to do that effectively and efficiently for the foreseeable future," Lasky said. The fire department is wasting no time in filling vacant positions. "We gave a test in March, so we're going through the process now of doing internal testing and background checks," Lasky said. "We're hoping to have new firefighters hired by November."
In addition, the Parma Fire Department also received $167,199 in grant money to purchase three station exhaust capture systems and one cascade filling station. An exhaust capture system improves the venting of fumes when fire vehicles are docked in a station, thus making the air cleaner. Fire Station No. 3 will house the new filling station will help the firefighters more efficiently fill individual air packs. The current system is 25 years old and is used by other area fire departments when needed.
The third grant is a $463,500 grant that will allow the fire department to buy 103 new portable radios to be shared among Parma, Brooklyn Heights, Broadview Heights and Seven Hills fire departments. Currently, these cities are using portable radios that can't communicate directly with other fire departments and are more than 14 years old.
"The new radios will allow area firefighters to talk directly with each other, increasing everyone's effectiveness in emergency situations when mutual aid is required," Lasky said.
Carolyn Kovach
Carolyn J. Kovach
Director of Communications, City of Parma, Mayor's Office
Read More on News
Volume 11, Issue 10, Posted 8:00 AM, 10.03.2019