Add A Redwood To Parma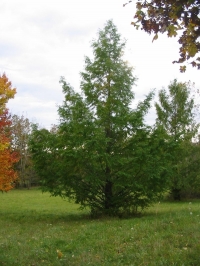 Perhaps you are a Parma homeowner looking to add a large, unique tree specimen not only for your own sake, but for your neighbors and future generations alike. The Dawn Redwood, with the scientific name Metasequioa glyptostroboides, could fill that void along with including a unique historical perspective. I have not noticed any in Parma but have seen some in the Brecksville Reservation of the Cleveland Metroparks.
The Dawn Redwood was believed to have gone extinct millions of years ago and was known only by fossil records. These fossils show the Dawn Redwood was located across North America and Asia. For this reason this tree is sometimes referred to as a dinosaur tree. Surprisingly, a few living specimens were discovered in 1943 during WWII in the Sichuan province of south central China. Following WWII seeds were brought to North America and Europe for propagation.
One of these locations is the Secrest Arboretum located within the Ohio Agriculture Research and Development Center in Wooster, Ohio. The OARDC is part of Ohio State University and any students interested in an agricultural career should certainly research this facility. Within the Secrest Arboretum is a grove of Dawn Redwoods planted in the early 1950's. Visit 'https://bygl.osu.edu/node/601' where you can find out much, much more about Dawn Redwoods and the OARDC research facility. You may even drive through and walk the grounds without an appointment. The link contains Dawn Redwood photos to provide an idea of the mature tree appearance.
The Dawn Redwood eventually grows to a very large size so be sure to have enough space. The tree may grow to a height of 70 – 100 feet and a diameter of about 25 feet. Dawn Redwoods may even grow to 160 feet in the perfect environment. While it is a conifer it is also deciduous turning orange-brown and dropping its leaves and small cones every fall. So, for not only a unique tree in your personal landscape you can also include a very unique historical aspect known to few people.
William Subjoc
Parma resident since 1988.
Read More on Opinion
Volume 11, Issue 11, Posted 8:50 AM, 11.01.2019