As The U.S. Healthcare System Hangs In The Balance Ohio Lawmakers Take Action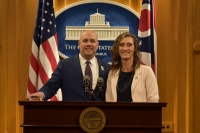 Other than perhaps the promise to "build that wall," nothing is more emblematic pf President Trump's 2016 campaign than his promise to "repeal and replace" the Affordable Care Act (ACA). Although thus far the effort to repeal and replace the popular healthcare plan has been unsuccessful, Trump may soon get his wish as a Federal Appeals Court in Texas considers legal arguments in a case involving the constitutionality of the ACA. Meanwhile, two members of the Ohio House of Representatives have proposed adopting protections from the ACA into Ohio law to preserve certain protections for patients with preexisting condition should the court undo the law. Legal experts predict a decision in Texas v. U.S. any day and also predict that this case is likely to be resolved in the U.S. Supreme Court next year.
State Representatives Jeff Crossman (D-Parma) and Randi Clites (D-Ravenna) teamed up to introduce legislation at an October 23rd press conference. According to Rep. Crossman the proposed legislation, if passed, would incorporate protections from the ACA into Ohio law. "It's a good bill and there's no reason why my Republican colleagues should not want to join us in getting this passed." Rep. Crossman noted that Gov. DeWine and Attorney General Yost have both publicly supported the idea of protecting persons with preexisting conditions. "Gov. DeWine promised to address this issue 'if something happened to the ACA' but I don't think it makes sense to wait." said Crossman. "We shouldn't wait for a calamity to occur. We should act now."
The Crossman-Clites bill proposes to prohibit insurance policies from excluding coverage for preexisting conditions and places limits on the premiums that insurance companies could charge. The bill also contains provisions that would ban lifetimes caps on care and would require Ohio insurance policies to cover what the ACA describes as "essential health" benefits. According to Rep. Crossman, if the lawsuit succeeds and these protections are not adopted by Ohio, it "will likely return us to the 'bad old days' when persons suffering from common conditions such as asthma, diabetes, or high blood pressure may once again need to worry about lifetime caps or coverage refusals by their insurance company----not to mention high-risk pools for cancer survivors or persons with a chronic illness like multiple sclerosis."
According to a recent study, nearly 2 million Ohioans currently have medical conditions that might prevent them from securing health care coverage should the Texas lawsuit succeed. "We cannot go back [to] when hardworking Ohioans would go bankrupt because they couldn't get access to the healthcare they needed—when they needed it most." said Rep. Clites who also pointed out that this time of the year was often very difficult for her family because of the stress involved in choosing an affordable health plan when you have family members with serious chronic diseases like her son's hemophilia. "[Before the ACA] parents had a hard time locating affordable health care for their children's special health needs." said Rep. Clites.
Rep. Crossman and Rep. Clites were joined by three women who provided personal testimony regarding their concerns about the pending lawsuit and its likely impact on their ability to secure healthcare for them and their family, including breast cancer survivor Susan Hyde who discussed her daughter's difficulty in securing healthcare 18 years after her daughter beat leukemia. "My daughter is completely protected with the ACA [because] it gives her equal access to affordable healthcare." According to Reps. Crossman and Clites, they chose to introduce the legislation on that day because of an action day planned by breast cancer survivors during October's breast cancer awareness month. Rep. Crossman also noted that it was one week away from the beginning of open enrollment which runs from November 1 through December 15 2019. For more information about the ACA or open enrollment visit: www.healthcare.gov
Read More on
Volume 11, Issue 11, Posted 8:51 AM, 11.01.2019