Four PCSD schools earn PTA School of Excellence Distinction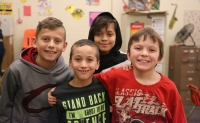 PTAs throughout the Parma City School District are making a big impact on the lives of students, staff and families.
So much so, four buildings received the National PTA School of Excellence Distinction for 2019 – 2021.
Green Valley Elementary School, Hillside Middle School, Parma Senior High School and Pleasant Valley Elementary School were recognized for their "commitment to building an inclusive and welcoming school-community where all families contribute to enriching the educational experience and overall well-being for all students," according to information from National PTA.
Impressively, PCSD represented a quarter of the schools from Ohio who received this designation for the 2019 – 2021 cycle. Each school will receive a banner to proudly display at their building.
"Parma City Schools have a tradition of having strong PTAs," Parma Council of PTAs President Heather Ekechi shared. "I feel this program finally gives the building PTA units recognition on the national level."
This isn't the first time PCSD schools have received this recognition. In fact, Parma Park Elementary School received this honor last year for the 2018-2020 cycle, and many other schools have been recognized in the past.
"I am proud of the units who received this recognition this year, along with those in the past," Ekechi expressed. "All of the units that received this recognition also earned it a few years ago, which shows they are continuing to keep up the good work."
Ekechi said becoming a National PTA School of Excellence is done in partnership with PTA building units and building administration.
"The PTA and school administrators participate by making a year-long commitment to identifying and implementing an action plan for school improvement based on PTA's National Standards for Family-School Partnerships and Family Engagement," she explained.
Along with survey data and creating improvement goals, school PTAs follow a "Roadmap to Excellence" created by National PTA for their building. This roadmap offers strategies in enhancing family engagement and improving family partnerships.
"PTA creates the village that helps to raise our kids and strengthen our community," Ekechi described. "PTA links families to important school and community information. Most of our PTAs host educational programs and assemblies along with providing engaging events for our families. All PTAs also raise money to support the programs, assemblies and events along with other specific needs of their school."
All are welcome to join the PTA and contribute their talents to making a difference in the schools.
"The number one reason to join the Parent Teacher Association is to benefit your child," Ekechi shared. "PTA functions are opportunities to meet other parents and teachers, building rapport and discussing issues that are on your mind."
"Regardless of what your exact interests are, you can be certain that your participation will be welcomed in any of our school's parent-teacher organization," she added. "Most schools have membership information in their office. Even if you don't have much time, attending your school's PTA or PTSA meetings is an excellent way to stay on top of what's happening at the school."
For more information about PTA, please visit www.parmacityschools.org/pta.
Read More on News
Volume 11, Issue 11, Posted 8:49 AM, 11.01.2019