Honoring Those Who Served: Tri-C Sets Veterans Day Observance At Western Campus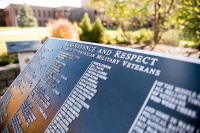 Cuyahoga Community College (Tri-C) will honor the courageous men and women who served in the nation's military during a Veterans Day observance at 11 a.m. Friday, Nov. 8, at Western Campus. The remembrance will take place at the Veterans Memorial Garden and Galleria. "Veterans Day provides an opportunity to pay tribute to the brave men and women who have defended this nation," said Rick DeChant, executive director of the College's Veterans Initiative. "The peace we enjoy is because of those who served."
The program will include presentations by Tony Kessler, commander of American Legion Post 572 in Parma, and Tri-C's James Banks, director of the Crile Archive Center for History Education at Western Campus. Banks will talk about the legacy of George Crile, a Cleveland surgeon who led a Northeast Ohio medical team that treated wounded soldiers in France during World War I.
The archives serve as a repository of materials about Crile and artifacts detailing the experiences of veterans on the battlefield and at home. It focuses on the health and healing of veterans. Tours of the archives and the College's Crile Veterans Center will follow the Veterans Day observance. Western Campus is located at 11000 Pleasant Valley Road in Parma. Free parking is available.
Tri-C serves thousands of Northeast Ohio veterans every year through its Veterans Initiative. For more information on programs and services, visit www.tri-c.edu/veterans.
John Horton
Media Relations Manager at Cuyahoga Community College
Read More on News
Volume 11, Issue 11, Posted 8:50 AM, 11.01.2019