I'm Ready For HAPPY ~ How About You?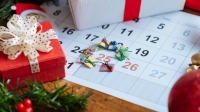 I usually gasp upon entering stores in early October ~ November when what to my wondering eyes do appear, decorations for Christmas right into the New Year.With universal news of political, educational, economic disdain, and truly much worldly concern, I have decided, "I choose HAPPY"!
I am awakened by the early morning sunrise and as my toes touch the chilly floor, the crisp cool air has me reaching for my woolen sweater. A bit of a chill reminding me, a change is coming and it is just around the corner. As I take my morning walk, leaves of ruby red, amber and gold decorate my path with sounds of rustling and crackling beneath my feet. Flowers displaying brightest colors of cherry red, purples and sunburst orange are celebrating their last hurrah of the season. As I continue on my way, ghosts and goblins hang from trees and pumpkins yet to find their faces. Christmas lights await their glowing debut.
Soon the warmth of home and hearth, and new television pilots to review, gives one time to snuggle in for the long winters night. I am reminded of many blessings as Thanksgiving will soon arrive with hopes of a first snowfall as off to grandmother's house we go. The aroma of turkey roasting in the oven filling the house with fragrances of thyme, garlic and cloves along with warm apple pies made with apples so sweet and tart, juices laced with brown sugar sweetness, cinnamon and spice brings back childhood memories... anticipating memories yet to be made.
As you prepare for the winter season and holidays, look to blessings and joy. Take a moment to hold someone's hand, give a gentle hug, smile into the eyes of a child or perhaps just a nod hello. Share a moment or two of happiness in a world so desperately in need.

Susan Banks - Yurik
I am a Parma resident. Attended Pleasant Valley Jr. High, Valley Forge Senior High, Parma Senior High, and Tri-C. I am retired; have been published in Guideposts, Mysterious Ways and Angels On Earth. I also create Iconographic style drawings, Prama Artspace Gallery. My son was a Navy Nuke, my daughter was Miss Parma, and runner up to Miss Ohio. Three generations of our family attended Thoreau Park Elementary School, Schaaf Jr. High School and Parma High School. I love living in Parma, and I especially enjoy the city's unique European ethnicity. Visit my blog at angelssignsmiracles.blogspot.com ~ Nani's Got The Tea
Read More on
Volume 11, Issue 11, Posted 8:50 AM, 11.01.2019