Parma Art Scene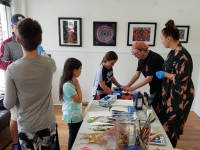 Anthony DeMarco, Parma High School Alumni, retired Parma High Art Teacher, and Board Member of Parma Area Fine Arts Council, currently has his photographic work included in Cleveland Photo Fest, Altered Landscapes/Vision & Poetry Show, at Mac's Backs-Books on Coventry. The show opened on October 25th, with a poetry reading at 7 p.m. Local poets and photographers shared their physical and emotionally altered landscapes in a live presentation. Photographers Kat Cade, Mary Ford, Samantha Bias, Janet Century, Tim Lachina, Anthony DeMarco, Todd Hoak, and Catherine McManus provided the visual stimulus through their surrealistic approach to internal and external landscapes. Eight poets performed their emotional reactions to the surrealistic photographs on display. Poets Krystal Sierra, Jim Szudy, Nicole Hennessy, Jimi Remick, Miguel Moor, John Burroughs, Siaarra Freeman and Doc Janning challenged the audience with their observations and perceptions. This show runs through November 30th.
Prama Artspace & Gallery, located at 5411 Pearl Rd., held a Sun Print Workshop on Saturday, October 19th. The Sun Print (cyranotype) workshop was taught by award winning and nationally known photographers, Laura D'Alesandro and Samantha Bias. This workshop was family friendly. Parma Mayor Tim DeGeeter and family were in attendance. I've heard the creations of Jack and Molly DeGeeter are now displayed in a prominent location in their home. Follow Prama on Facebook.
Michelle Behal, President of Parma Area Fine Arts Council, acrylic painter and award winning pyrographic artist (wood burning) will be in Belleville, Ohio at Christmas In The Valley on November 9th, Columbiana, Ohio at St. Jude Christmas Craft Show on November 16th, Oberlin, Ohio at Oberlin Holiday Bazaar on November 17th, LaGrange, Ohio at LaGrange Holiday Show on November 23rd, and Huron, Ohio at Mulberry Creek Christmas Show on December 7th and 8th, with her unique creations. For more information on her custom made products, or details regarding the shows listed, visit www.beartracksart.com.
Katrina Lindsley, member of Parma Area Fine Arts Council and founder of Devotions, home made air fresheners and more, will be at Lake Catholic High School in Mentor on November 2nd, Grace Church in Middleburg Hts., on November 8th & 9th, Heritage Presbyterian Church in Amherst on November 16th, and North Royalton High School on November 23rd. Follow Devotions on Facebook.
Sean Mabin, member of Parma Area Fine Arts Council, and owner of Prama Artspace Gallery has work in the Skull & Skelleton Show in The Gallery at Lakeland Community College. The artists reception, Boneyard Market, costume party and benefit auction was held Thursday, October 24th. The show runs through November 8th.
Kathryn Mabin
Board Secretary of Parma Area Fine Arts Council, Inc, or PAFAC, and Artist/Jewlery Designer, Owner Aire of Oppulence.
Read More on News
Volume 11, Issue 11, Posted 8:50 AM, 11.01.2019