Cuba: A Vibrant Tapestry Shrouded In Iron Curtains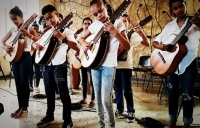 There is a stretch of contested land rising out of the Caribbean ninety miles south of the Florida Keys, at a very neighboring latitude/longitude of 21.5218 N/77.7812 W. A nation remarkably close in proximity to our own, yet so incredibly distant in what we have historically been permitted to know of one another beyond the Iron Curtain and the Cold War campaign - a virulent posturing of superpower ideologies on the world stage by the United States and former Soviet Union, which culminated in a bitter debilitating twentieth century military and political standoff over allegiance and control of her shores. This nation, The Republic of Cuba, consequently found herself in the midst of a severe push-pull dynamic between The Soviet Union and United States, and would ultimately be used by the U.S and U.S.S.R as the pretext and catalyst to lay the groundwork towards what would become the single-most largest scale arms race in the history of the world, with the central pursuit being the development of nuclear warheads and their delivery systems. Her developing leader at the time, Fidel Castro, would eventually align with Soviet support and a campaign of armed insurrection, which triggered an immediate cultural and financial shutdown between the United States and Cuba by means of sweeping embargoes orchestrated through American policy.
Far from perfect, Cuba would however fully blossom and culturally thrive on her own, with vast amounts of state sponsored assets that would unremittingly be earmarked and apportioned directly into medicine, social services, and the arts. Arts and culture soon became one of Cuba's most lasting exports unto the world, with entire communities subsisting on government supported arts programs within the country, and their wider audiences abroad.
One such community are the artists of Pinar del Rio. Located 163 km west of the capital Havana, the city of Pinar del Rio evinces one immediately to a time that bridges antiquity with the modern day – from antique 1950s American motorcars still on the road today (not particularly as a result of an avid national movement of collector's passions, but of necessity itself), to eye popping vibrant pastels awash every inch of available dry stone across the brilliance that is their predominant Art Deco architecture. A raw vibrant beauty mixed in with modern accoutrements like any other developing nation, as their allies extend far and wide across the world and have helped to link them well on the road of progress despite continued American sanctions.
The heart of Pinar del Rio however is her world-class artists; at any given moment you can hear the pulsating Afro-Spanish variances of Rumba rhythms in and around her every corner, effortlessly played by friends that have held each other up in honor since their early years as children at the very beginning of their artistic journeys. You can wander down any of her streets and find visual artists quietly immersed in the intensity of their current projects, or performance artists hard at work rehearsing lines in preparation for a wide array of upcoming musicals at Teatro Milanes. If there is one word that would sum up the artistic essence of Pinar del Rio and Cuba herself, it would be none other than, Guarapachanga. La Guarapachanga is an annual week long music festival in Pinar del Rio that celebrates Cubanity both local and abroad, with many international performers of Cuban heritage returning home each April to celebrate together in the spirit of performance with former teachers and classmates. The community delights in all-day workshops throughout the city, and evening performances highlighting some of the most sought-after artists from across the island nation and those living abroad. What is particularly warming is to bear witness to the phenomenal caliber of up and coming young Cuban musicians during the festival, their work especially, is nothing short of absolutely bedazzling. The arts is a language of giving, we could even say a language of love.
The Republic of Cuba has forged in no uncertain terms, a unique path though the power of art to more effectively neutralize even the effects of racism itself, as all Cubans, no matter their tint of hue dark or light, fully and zealously embrace their essential bloodline roots of African, European, and Indigenous heritage. This collective acceptance of their wide-ranging forebears is proudly exhibited vigorously through their music, dance, and overall harmonic national tone. That is to say, what they have uncovered through embracing all lineages of heritage that have made Cuba the cultural beacon it is today, is the very thing that rendered racial tensions less prominent: love and acceptance of one another, the essence and vitality of ancestral co-assembly through a shared heritage, and celebrating the binding of our bloodlines at key points in history that has made the world what it is today.
For a great many years, we Americans have allowed the nature of our understanding to often be expropriated by the directives of those that have decided to deem what is better for us as a result of political agenda. Be that as it may, we are now thirty long years removed from the Cold War; may we each reach deep inside to a more natural state of warmth, connection, compassion, and reason, and release ourselves from outdated antiquated fears against our lovely island neighbors to the south, to more fully live the eternal lessons and depth of what we know to be true at the heart of our good books…
Davidione Pearl
Freelance travel-writer, musician, photographer, philanthropist..
Read More on
Volume 11, Issue 12, Posted 2:02 PM, 11.30.2019