Democrats Detail "Family First" Legislation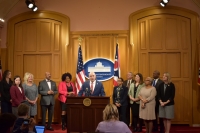 At a recent media event at the Ohio Statehouse, members of the Ohio House Democratic caucus outlined their legislative successes so far in this General Assembly with respect to "family first" legislation. According to the legislators, they intend to continue pressing additional family focused legislation as part of the "Ohio Promise" framework rolled out earlier in the year.
According to Democratic House Leader Emilia Sykes (D-Akron), Democratic legislators have been working to craft legislation that demonstrates their commitment to families. According to Minority Leader Sykes, the Republican majority's priorities have been "misplaced" in focusing on "legislation that people have not asked for. That's why our caucus put forth the Ohio Promise this past spring, so we could focus on the issues people care about."
Sykes pointed to a number of Democratic-backed family first bills that already cleared the House, including proposals to establish the Kinship Care Navigators Program, which supports foster families, improves maternal health, creates the state's first-ever Children's Behavioral Health Network, and makes it easier for military families caring for a loved one with special needs; to apply for Medicaid services.
Additional proposals focus on eldercare and Ohio's senior population, with bills to establish training standards for dementia care, simplify and streamline the application for SNAP and other benefits, and to improve quality of life at nursing homes. "It's critical for lawmakers to understand many of the issues facing our elderly populations, especially those with chronic diseases," said Rep. Stephanie Howse (D-Cleveland), who introduced a bill to better care for Ohioans living with dementia. "By having these conversations, we can better serve seniors and the elderly and connect families with the resources they need to care for their loved ones."
Parma Representative Jeff Crossman presented details regarding his House Bill 390 also known as the Pre-existing Condition Protection Act. Rep. Crossman filed the bill in an effort to protect the healthcare for approximately 2 million Ohioans that could lose their healthcare, in the event that litigation over the Affordable Care Act succeeds in overturning the law. 18 states led by Texas filed suit in 2018 seeking to invalidate the ACA and a decision on the appeal is expected soon, although the case is expected to proceed to the U.S. Supreme Court for a final decision. "We cannot return to the bad old days of coverage denials or high-risk pools that offer little coverage at an extremely high cost." said Rep. Crossman. "We need to ensure people have access to quality affordable health care."
HB 390 would mandate that health insurance companies provide coverage for persons suffering from preexisting conditions, which could include anything from high blood pressure, pregnancy, and affect cancer survivors. According to Rep. Crossman, "approximately 1 in 5 Ohioans suffers from a preexisting condition which means if you don't have one, someone in your immediate family likely does." HB 390 received its first hearing in the Ohio House's Insurance Committee on November 18, 2019.
For more information on Family First legislation, please contact the office of State Representative Jeffrey Crossman at Rep15@ohiohouse.gov or (614) 466-3485. You can also contact Rep. Crossman on social media via twitter @jeffacrossman or facebook.com/crossmanforohio.
Read More on
Volume 11, Issue 12, Posted 2:02 PM, 11.30.2019