Shoppes At Parma Has New Owner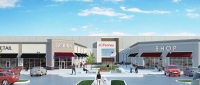 Allied Development of Great Neck, New York has purchased the 765.000 square feet shopping complex known as The Shoppes at Parma for $81.6 million dollars, it has been reported. Parmatown Station LLC, an affiliate of Prep Property Group, had redeveloped the former Parmatown Mall through several years of intensive reconfiguration. The results were apparently very appealing to Allied Development, as they expressed great optimism in what they view as a promising opportunity, with 95% of existing space filled and an additional 10 acres available on the property for future retail development. The acquisition of Shoppes at Parma is the first investment in Northeast Ohio for the New York based company.
Most people in Parma have fond memories and countless stories when they think of Parmatown Mall. When I grew up in the 1960's the mall was expanding constantly from what had originally been a strip shopping center on Ridgewood Dr. Changes that occurred from the mid 1990's led to profound decisions on the part of the owners at that time, and for a time it didn't really look all that good for the future of this place. Since the redevelopment and transformation from a traditional mall to an open retail community, the space now seems firmly rooted in the 21st Century concept of what retail looks like today, and therefore the future is considerably brighter than it was 8 years ago. Allied's purchase is obviously a vote of confidence in the Greater Parma Community, and we should be glad that business concerns feel so strongly about being confident in investing here. Congratulations to Prep Property Group for sticking to their plan and successfully performing the task of saving and re-purposing our vital retail center. There are still many questions to be answered concerning plans of the new owners. One of mine is: Will the Shoppes at Parma name be kept?
Daniel P. McCarthy
I am the publisher of the Parma Observer. Lifetime resident of Parma for over 50 years.
Read More on
Volume 11, Issue 12, Posted 2:02 PM, 11.30.2019