Parma's Second Annual Pizza Bake Off A Huge Success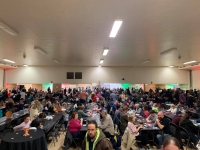 The Young Professionals of Parma (YPOP), in conjunction with the cities of Parma, Parma Heights and Seven Hills, hosted the Parma area's second-annual pizza bake off last month. More than 600 guests attended the event at the city's UAW hall enjoying pizza from a variety of local pizza shops and bars. A portion of proceeds benefited the Parma Animal Shelter.
A panel of celebrity judges recognized State Road Pizza as the Best Overall Winner, PJay's Pizza for Best Sauce and Wagon Wheel for Best Crust. In addition, attendees had a chance to vote for their favorite pizza in the People's Choice award which went to Master's Pizza.
In light of an unexpected large turnout and feedback from last year's event, The Young Professionals of Parma implemented a committee which met frequently throughout the summer and fall to implement changes to improve the event and ensure it ran smoothly this year. Colored plates and punch cards helped ease the tasting and voting process and expanded space in the UAW hall provided plenty of room for hundreds of guests.
Event coordinators are thankful for everyone who volunteered, the Baker's Basement for providing music, Company Car and Limousine for providing a parking shuttle, Burning River Entertainment for their photo booth and uplighting, Zap Entertainment for providing a magician and balloon artist, The Little Birdie Wine Nest for serving wine, Fat Heads for serving beer and donating a beer tower as a raffle prize, and CLE Cookie Dough Co. for serving dessert. Also, a variety of sponsors made the event possible including Michelle Green Professionals Group of HER Realtors and Nick Battilana of State Farm. "The Parma Pizza Bake Off is such a big and fun event, it makes so much sense for businesses to participate," said Battilana. "I get to interact with so many locals who may never have heard of me or my office. Plus, it's becoming an event that people in Parma look forward to and I love being able to support the Parma community."
Young Professionals of Parma president Jackie Baraona was excited to put on the second annual event and is pleased with the turnout and flow. She appreciates the support of city officials and the interest from pizza vendors and attendees. She looks forward to the opportunity to host this community event in the future. "I want the public, especially existing residents and young people considering potentially buying homes and raising families in Parma, to think 'Wow, it's really cool that Parma puts on these kinds of events; this is a city I want to be part of.'"
Kathie Zipp
Kathie Zipp is marketing director for the Young Professionals of Parma.
Read More on News
Volume 12, Issue 2, Posted 9:30 PM, 02.02.2020