Fresh Produce For Households With Limited Incomes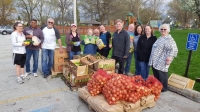 Baba's Yard, a 501(c)3 nonprofit organization, distributed 86 tons of fresh produce at no cost to hundreds of low income Greater Parma household in its premier 2019 season of programing, in partnership with Greater Cleveland Food Bank, the City of Parma and the Parma Board of Education, distributions in Parma were on the parking lot that previously served State Road Elementary School. This year the Parma giveaways have moved to the parking lot of the Cuyahoga County Public Library, at 2121 Snow Road, 44134. Neighbors in need are invited to the Parma Snow library branch between 3:30 and 5:30, on the first Tuesday of each month in 2020, from April through October.
Baba's Yard will also return to Veterans Memorial Park, behind Brooklyn City Hall, 7619 Memphis Avenue, 44144, on 4th Tuesdays in 2020, April through October, from 3:30 to 5:30.
Clients need only bring a government issued photo ID and shopping bags. For example, single person households are currently limited to $2,023 total monthly income, and for a two person household it's now $2,743. There are no residency restrictions.
Baba's Yard enjoys volunteer support from a number of elected officials and a dedicated core of friends united in the spirit of selfless service. Our mission is to reduce epidemic diseases by increasing fresh produce consumption. We advocate food as medicine and plant based nutrition. More information is available from info@babasyard.org

John Visnauskas
Baba's Yard Executive Director, founder of a number of charitable organizations, owns his childhood Parma home.
Read More on News
Volume 12, Issue 3, Posted 11:17 PM, 03.01.2020