Parma Art Scene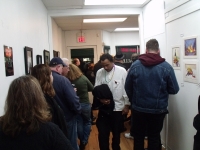 PRAMA ARTSPACE GALLERY, located at 5411 Pearl Rd, latest show is titled Gastronomy. In celebration of Fat Tuesday and Mardi Gras the food themed show is a feast for your eyes, including the works of several fine artists. The show opened Saturday, February 22nd with a celebration that included real Mardi Gras food choices and music by Floyd Unplugged, who also did a recitation from his new screenplay. Parma Fine Arts watercolorist and instructor Emery Bogardy, has several paintings in this exhibit, which closes on March 22nd. The following exhibit will open March 27th, featuring Shawn Sloburn, Jennifer Gleason and Samantha Vickers. Follow Prama on Facebook, or check out their new web page, www.pramaartspace.com for details on this show and future events.
CALL FOR ARTISTS - Parma Area Fine Arts will hold it's annual Medley of Arts Show & Sale on May 16, 2020, at the Donna Smallwood Activities Center.. A total of $550 in awards will be given throughout multiple categories. Go to www.parmafinearts.org for details, or to download the application.
Affordable ART CLASSES – Wednesday evenings from 7:00 to 9:00 classes in acrylic/mixed media and watercolor painting are held at the Donna Smallwood Activities Center. Acrylic Instructor Michelle Behal (www.beartracksart.com) covers multiple techniques in her classes which are suitable for beginners. In Emery Bogardy's (www.bogardyart.com) watercolor class you will learn different techniques to create realistic paintings and bring out your creativity with watercolor. This class is also suitable for beginners. Cost is affordable at $8 to $10 a session. Stop in to visit to see if these classes are for you.
Congratulations to Parma resident MARY FORD who took third place in the Shades of Gray exhibit at Creative Space Avon.
SEAN MABIN, artist and Prama Gallery owner, was one of the exhibitors at Doubting Thomas Gallery in the Temple of Lost Love show in February, which was part of the Walkabout in Tremont.
LENA SIMOVIC, of Lena Atomika Photography, a Parma High Alumni and resident, is exhibiting at LIVE Publishing Gallery at Murray Hill School, along with Jim Szudy, Laura D'Alesandro, Emma Anderson, and Anderson Rush. Titled New Faces in Portraiture, it opened January 9th. This event is part of the Cleveland Photo Fest, which highlights photographic artists, locally, nationally and internationally.
Kathryn Mabin
Board Secretary of Parma Area Fine Arts Council, Inc, or PAFAC, and Artist/Jewlery Designer, Owner Aire of Oppulence.
Read More on News
Volume 12, Issue 3, Posted 11:17 PM, 03.01.2020