Parma Still Rising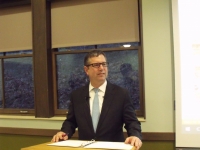 The Westcreek Watershed Stewardship Center in the Metroparks Westcreek Reservation in Parma was a perfect setting for the State of the City address given by Parma Mayor Timothy J. DeGeeter on 2-25-20. Places in Parma like this superb community asset are something the speech specifically focused on as he shared information about the direction of Parma. Calling attention to the humble beginnings of what eventually became West Creek Conservancy, he made it clear that the partnership between this group, the City of Parma and Metroparks has grown into an institution that we all have reason to be proud of. Other groups have emerged that are adding to the fabric of the community. We Are Parma Proud, Young Professionals of Parma, Ukrainian Village, Polish Village, Quarry District; all kinds of new organizations, ideas, and people. This kind of activity has served to make Parma and the surrounding area a magnet for people to visit and hopefully choose Parma as a place to buy a home.
Speaking of homes, what the Mayor had to say was certainly noteworthy when it comes to our neighborhoods and housing stock. Parma's housing prices are indeed rising- since 2011, the median sale price of a Parma home has increased by 60 percent, from $79,000 to $126,315, a jump of more than $47,000. In just one year, we saw median sales prices spike by 4.8 percent between 2018 and 2019. Sellers received 98.2 percent of their asking prices. He also declared that it is definitely a seller's market here; if someone is looking to buy a home in Parma, the Mayor advises that they act fast- available home inventory for sale is down 14.1 percent from 2018.
The Seventh largest city in Ohio will always have challenges and issues, and the Mayor addressed some of them in his speech. He mentioned July 5, 2019 as being one of the most difficult moments as mayor, when 6 inches of rain fell in just one hour, flooding countless basements of homes and severely damaging businesses. The city was forced to close 13 different streets. He assured Parma residents that the city is working with our partners at Northeast Ohio Regional Sewer District to constantly monitor situations and find ways to mitigate flooding. Roads are also a major priority, and in 8 years we've invested nearly $45 million in our streets. A host of projects are slated for 2020, including resurfacing Ridge Rd. from south of Pleasant Valley Rd. to Pearl Rd.
Mayor DeGeeter saluted all of those who contribute so much to the quality of life in Parma. The Police Department, Fire Department, Service Department Workers, Senior Center Management and Staff, Recreation Department- all play a vital role through excellent job performances in making our community a safe and desirable place to live.
Our Parma businesses, the Parma Area Chamber of Commerce, and other institutions provide a stable base for progress. GM Parma Metal Center, UH Parma Medical Center, Pitt Ohio, Metrohealth, Shoppes at Parma, to name a few, serves as an example to other cities when they see how Parma managed to emerge from the Great Recession with new growth and an attitude that is contagious.
Daniel P. McCarthy
I am the publisher of the Parma Observer. Lifetime resident of Parma for over 50 years.
Read More on
Volume 12, Issue 3, Posted 11:18 PM, 03.01.2020