Teddy Bears And The Worlds' Largest Double Deck Gun Range Joined Forces To Send A Valentine To Parma Police K9 Heroes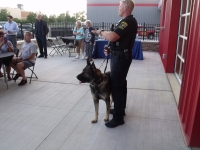 February 25, 2020 – Parma, OH -- Parma Armory Shooting Center showed its love and respect for all law enforcement officers over the Valentine's Day weekend, by hosting over 100 participants in their Target-a-Teddy fun event. Benefactors, who purchased the Teddy Bears onsite, found them to be an interesting alternative to shooting at typical paper targets. On February 25, 2020, $1095 raised at this event was donated to the Parma Police Department K9 Unit, which has a crucial role in the safety of the entire Parma community. The money will be used to help support and enhance the quality of life for our four-legged police officers. Target- a-Teddy is only one example of ways Parma Armory Shooting Center has contributed to the welfare of our city. As a life-long resident of Parma, and a former Auxiliary for the Parma Police Department, my goal is to give back to the community that gave me so much in my youth. That includes providing a recreational facility stressing gun safety education for CCW carriers and home defense gun owners; 'demystification' gun training for non-shooters who need not fire a shot to turn their gun-fear into knowledge of what guns themselves can and cannot do, and how Parma residents can, as parents and grandparents, make children safer around guns they might encounter anywhere.
Whether local businesses or organizations need a meeting room or classroom; or want to raise funds through pistol, rifle, or archery events; indoor or outdoor flea/art/antique/auto shows and markets, Parma Armory Shooting Center welcomes local businesses and organizations to inquire about opportunities that exist for Parma Armory Shooting Center to help them improve their own commitment to the residents of Parma. To check available resources at Parma Armory Shooting Center, call Robert Euerle at 216-242-6717.
Rob Euerle
Owner of the Parma Armory Shooting Center
Read More on News
Volume 12, Issue 3, Posted 11:18 PM, 03.01.2020