Well Done, Good And Faithful Servant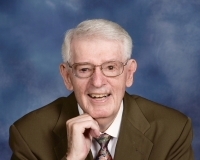 Last weekend was a bittersweet one for the parishoners of Divinity Lutheran Church in Parma Heights. The reason?They said farewell to their longest serving clergy member.
Rev. Donald F. Hesterman, who served the congregation as Senior Pastor from February 7, 1954 until his retirement on December 31, 1987, and who now holds the title of Pastor Emeritus, has left the area for Pennsylvania, to be closer to his daughter, Rachel, a graduate of Valley Forge High School. Hesterman, who will turn 98 on August 1 of this year, was feted with a luncheon in the church Fellowship Hall. He was instrumental in helping Divinity to grow as a church during the key time of the 1950's through the 1970s working alongside his beloved late wife, Arlo, who passed away in 2005. The pair raised four children and lived for many years on Commonwealth Boulevard in an unassuming bungalow directly behind the church that Pastor Don was so vitally involved in.
Many of you in the Parma Heights community were no doubt touched by the good works of this humble man of the cloth. Perhaps he officiated at your wedding or baptized your child or grandchild. We wish him well as he undertakes the next steps in his life journey and thank him for his chosen life of service to God. Thank you, Pastor Don, for always being an inspiration. If anyone deserves to enjoy their "golden years," it is you. You have certainly earned it. You will be missed. Until we meet again. Well done, good and faithful servant. Well done indeed!
ARTS IN ACTION – Speaking of Divinity, the church's community outreach group, Arts in Action, will host a pancake breakfast from 9:30 until 11:30 a.m. Sunday, March 1, with all proceeds going to their annual scholarship fund. Each year they present a scholarship to a deserving high school graduate who is pursuing a career in the arts. Suggested donation is $5 per person, with children age five and under eating for free. The church is located at 11877 Blossom Avenue, Parma Heights.
Arts in Action will also present a free concert for the community at 2 p.m. Sunday, March 15 in the church sanctuary, featuring internationally renowned organist Dan Miller. A professional member of the American Society of Composers and Publishers (ASCAP), Miller has also taught music, conducted choral groups and orchestras, managed large concert productions and music conferences and facilitated worship in many different settings.
An adjunct professor of organ at George Fox University in Newberg, Oregon, Miller has been the featured solo organist with several different symphony orchestras, and is the former Dean of the Ft. Lauderdale (FLA.) chapter of the American Guild of Organists (AGO), as well as a member of the Portland (Oregon) Chapter of the AGO.
Currently, Miller is the organist at St. Matthew Lutheran Church and a guest organist for Bethel Congregational Church, both in Beaverton, Oregon.
Arts in Action will also host members of the faculty and students of the Cleveland Institute of Music on Sunday, April 26 as they present the first of many future concert programs at Divinity.
For more information, call the church office at 440.845.2060. Arts in Action's purpose is to infuse the local community, using the church as a venue, for community outreach in all forms of the fine and performing arts.
The group was formed by Divinity members Fred and Marlene Dray, residents of Greenbriar Drive in Parma Heights. Marlene Dray is a retired music teacher who worked for 30 years in the Parma City School District, and still provides private piano instruction to local students. She is the principal organist at the church.
READING IS FUNDAMENTAL – Nine Divinity members are making a difference in the lives of the students at Parma Park Elementary School, located directly across from the church.
Kudos to Don and Kathy Dregalla, John and Judy Jacobson, Dave Worsencroft, Debbie Lipinski, Marti Stephan, Mary Griffin and Sue Clay who are all serving as tutors as a part of the Parma City School District's Project More, which the district uses to improve the reading skills of its elementary students.
ON THE CASSIDY THEATRE MAIN STAGE –Tickets are now available for the Cassidy Theatre's presentation of the 1960's musical "Beehive," which will be presented April 10-26.
Created by Larry Gallagher, "Beehive" celebrates the powerful female voices of the 1960's with such timeless hits as "My Boyfriend's Back," "Be My Baby," "Son of a Preacher Man," and "Me and Bobby McGee." Told from the perspective of six young women who come of age in this decade of dramatic change, "Beehive" takes us from their first Beehive Dance to the challenges we faced as a nation.
To purchase tickets visit www.cassidytheatre.com or call the Theatre Box Office at 440.842.4600.
YOGA AT THE CASSIDY – Parma Heights resident Jill Pawloski is now offering a Gentle Lunchtime Yoga Class at 12:30 p.m. every Tuesday in March at the Cassidy Theatre.
This comes after Pawloski successfully introduced free yoga in the park once a month last year at the Greenbrier Commons.
The idea for the Gentle Lunchtime Yoga class was the brainchild of Mayor Michael P. Byrne's assistant, Erin Lally, who saw a need for a de-stressing and relaxing midday respite that's open to the community, as well as city employees.
The 45-minute yoga class is open to the public for a drop-in fee of $10.
Yoga in the Park will return free this summer.
IN CONCERT – The Parma Symphony Orchestra will perform a classical music concert on at 3 p.m. March 8 in the Valley Forge High School Auditorium, 9999 Independence Blvd., Parma Heights. The program will include Massenet's "Le Cid Ballet Suite," Chabrier's "Espana" and Tschaikovsky's "Symphony No. 4."
Consisting of 75 members from all walks of life who hail from across Greater Cleveland, the orchestra is in its 51st season. The musicians meet weekly for rehearsals and present at least four concerts annually.
General admission is $10 for adults and $5 for students and senior citizens. Family passes at $20 are available for families of up to two adults and their children. All tickets are available at the door beginning at 2:30 p.m. on concert day. Parma Symphony Orchestra is a self-supporting community orchestra in cooperation with the Parma City School District. For more information, visit the orchestra's Facebook page, its website parmasymphony.org or call Joe Germana, business manager, at 440.882-2012.
Randolph Laycock is marking his 41st season as music director of the orchestra. He conducted his first concert on Nov. 19, 1978.
Laycock taught string and wind music for the Parma City Schools for 36 years and was music department chairman for the Valley Forge cluster. He was director of youth orchestras at Baldwin-Wallace College 1978-2016 and previously was director of the University Circle Chamber Orchestra 1987-1994.
Laycock also was a double bassist in the Ohio Chamber Orchestra, Cleveland Opera and Cleveland Ballet Orchestra and he has also been guest conductor of the Cleveland Philharmonic.
His educational duties continue as an adjunct professor of music history and theory at Cuyahoga Community College, as well as the Tri-C concert band director.
WANT TO SEE YOUR INFORMATION FEATURED IN THIS COLUMN? – E-mail Rick Haase at rick.haase@sbcglobal.net.
Rick Haase
Rick Haase is a freelance writer from Parma Heights.
Read More on
Volume 12, Issue 3, Posted 11:17 PM, 03.01.2020