Where Futures Began: Gallery West Exhibit Showcases Artists With Tri-C Roots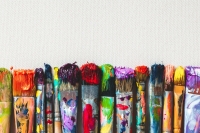 The talent of eight Northeast Ohio artists who built their skills at Cuyahoga Community College (Tri-C®) are being highlighted during a monthlong exhibit at Western Campus.
Where Futures Began will be on view through March 26 at Gallery West, located on the second floor of the campus library. Gallery hours are 8 a.m. to 8 p.m. Mondays through Thursdays and 9 a.m. to 2 p.m. Fridays and Saturdays.
Featured artists include Yvonne Bakale (painting); Barbara Chira (drawing); Susan Danko (painting); Shannon Hines (sculpture); Meg McNamara (painting); Carrie Meszaros (ceramics); Carrie Stinson (drawing/photography); and Justin Urban-Styles (photography).
The exhibit will include current work by the artists as well as pieces created during their time at the College.
Free parking for Gallery West visitors is available at Western Campus, located at 11000 Pleasant Valley Road in Parma. For more information, call 216-987-5322 or visit www.tri-c.edu/gallerywest.
John Horton
Media Relations Manager at Cuyahoga Community College
Read More on News
Volume 12, Issue 3, Posted 11:17 PM, 03.01.2020