DEA Museum Exhibit Ribbon Cutting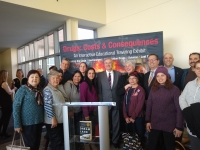 A ribbon cutting ceremony was held on Friday, February 21st at the Snow Road Cuyahoga County Public Library to celebrate the opening of the DEA Museum and Visitors Center. Mayor Tim DeGeeter of Parma performed the ribbon cutting surrounded by elected officials from DEA, Parma and Ohio.
This amazing and educational exhibit protrays, in stunning fashion, the history of illegal drugs in America. "From opium dens in the mid-1800's to the international drug mafias of present day, Illegal Drugs in America: A Modern History, traces the impact that drugs have had on American society and the effort by federal law enforcement to combat this devastating and growing scourge on our community".
A bookshelf near the exhibit affords the visitor the opportunity to check out books with more information on this topic. The exhibit will be at the Parma Snow Road Library through June 20th. Hours for the exhibit are Monday - Thursday 9 a.m. to 9 p.m., Friday and Saturday 9 a.m. to 5:30 p.m. The exhibit is closed on Sunday. This is a must see exhibit for all those concerned about this urgent and growing problem.
Linda Kohar
Parma Councilwoman Ward 8
Read More on
Volume 12, Issue 4, Posted 2:46 PM, 04.01.2020