Parma Art Scene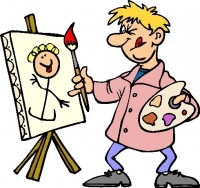 Parma Area Art Council, Inc., has suspended all art classes until further notice. Check the web page, www.parmafinearts.org for updates or follow on Facebook.
Share your artwork. Parma Area Fine Arts Council encourages you to take photos of your work and post to their Facebook page.
Prama Artspace Galley, 5411 Pearl Rd's exhibit, Gastronomy show closed Saturday, March 21st. Due to the health crisis, the gallery is closed until the crisis is over. Watch their web page, www.PramaArtSpace.com for updates or follow on Facebook.
My recommendation: During these unsettling times I have little to share with you regarding upcoming events. Therefore I'd like to share with you ideas for what to do with your free time at home. In times of stress I've found that by sitting and drawing, or painting, or creating in any form has helped me to find some peace. I do this for me, not to sell, not because I'll be creating a masterpiece, but because it helps me to cope.
Creating art is for all ages, young and old. Everyone can learn how to draw, it comes from practice. Usually you need an instructor to guide you, but, there are lots of videos on the internet that can act as your instructor. All you need is paper, pencil, your computer and time. A very inexpensive activity. You can paint. There are lots of videos online that will show you all the techniques and tricks. Remember Bob Ross and those happy little trees? Or you can color with markers, pencils or even crayons, in a coloring book, or print pages to color off your computer. There are a number of YouTube videos, Google free coloring pages, for kids and adults, or Google art instruction, and for inspiration search for museum online tours.
Parents, spend time with your children, creating. Working adults, after a stressful day at work during these unusually stressful times creative arts will relax you. Seniors, creative activities keep your mind sharp.
Who knows, maybe there's an inner Grandma Moses, or a Picasso within you. Try it, you might like it!
Kathryn Mabin
Board Secretary of Parma Area Fine Arts Council, Inc, or PAFAC, and Artist/Jewlery Designer, Owner Aire of Oppulence.
Read More on News
Volume 12, Issue 4, Posted 2:46 PM, 04.01.2020