Parma Mayor Advocates For Federal Stimulus Package To Help Cities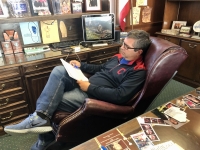 In early March, Parma Mayor Tim DeGeeter and city council members were looking at a balanced budget for 2020. Then COVID-19 hit. Most state governors took drastic measures. When Gov. Mike DeWine gave the Stay-at-Home order, forcing many businesses to close, the balanced budget was not immune to the economic impact. "It's all based on projections," said Parma Treasurer Tom Mastroianni. "The closures are going to impact the city. Cities mostly rely on income tax. Our projected income will be down $5.5 million, of which $4 million is collected from income taxes." The other $1.5 million comes from income obtained through court costs, traffic citations, building permits and recreation registration fees. "We are still getting requests for building permits, but with the courts temporary closed, less traffic on the streets and rec sports suspended, that income is not coming in at the same rate," said Parma Auditor Brian Day. "In a normal year, we can project for the year. We are still looking ahead, but it is hard to determine where we will be. This is such a moving target." Mastroianni noted that the city will know much more at the end of July when more people file their city income taxes. Federal, state and city 2019 income tax deadlines were extended to July 15, 2020.
Like other mayors throughout the country, DeGeeter anticipates the financial impact will continue into 2021 because 2020 income tax returns will also be reduced. The bleak outlook for 2021 is why DeGeeter and other mayors from the Ohio Mayors Alliance are asking Congress to provide financial relief to cities now. DeGeeter, a board member of the Ohio Mayors Alliance, participated in an April 16 press teleconference organized by the Alliance, a bipartisan coalition of more than 24 mayors of Ohio's largest cities. During the conference, the mayors outlined their dire circumstances and urged Congress to create a fiscal relief package. The goal is to prevent service reductions at the local level and help accelerate economic recovery. The current economic downturn has caused layoffs and some service reductions in cities across Ohio.
"In early April, we laid off 47 employees until July to make immediate budget cuts. Depending on how quickly the state reopens, the return of consumer confidence, testing capabilities and the number of confirmed future coronavirus cases, we will continuously assess the situation. It is challenging because there are many factors now affecting our local economy that we can't control," DeGeeter said. DeGeeter explained that the city does not have a reserve fund. "We have a small carryover from year to year. Every March, when we enact a balanced budget, it is survive and advance. Our budget is always tight."
While the recently passed Coronavirus Aid, Relief and Economic Security (CARES) Act includes funding from Congress for state and local governments, it mainly assists large counties and cities. Even though Parma is the seventh largest city in the state, it is not receiving any money from the CARES Act. That's why the Ohio Mayors Alliance, which recently sent a letter to Congress, is advocating for direct emergency stabilization funding to cities in the next federal aid package. "We are making tough decisions. We are trying to provide services, but I am very concerned about what our city's financial outlook will be without a phase-four federal package. We need direct emergency stabilization funding to survive, and we need it quickly," DeGeeter said.
Throughout the economic crisis, many analysts have compared America's current economic crisis to the Great Recession of 2008. Day is optimistic the economy will rebound faster than it did after the previous recession. "The main difference is that our country controlled this economic shutdown. My hope is that there will be a shorter impact on our economy this time." DeGeeter is also hopeful. "Every day I'm communicating with mayors throughout the state, county health professionals and state leaders, including Gov. DeWine and Lt. Gov. John Husted. We are all working together, and I'm confident we'll get through this."
Carolyn Kovach
Carolyn J. Kovach
Director of Communications, City of Parma, Mayor's Office
Read More on News
Volume 12, Issue 4, Posted 12:52 PM, 05.01.2020