Staying Home Is The Safe Thing To Do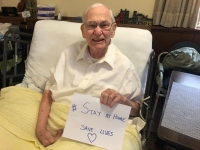 Even though Norris has the help of his wife and Home Instead CAREGivers at home, he understands this is not the time to bring in family members who live outside the home or visit with friends like he might have done just a few weeks ago. By now, we all know social distancing is necessary to slow the spread of COVID-19. But one downside of doing that is the emotional impact of isolation, which has become a real danger. And seniors, many of whom live alone, are at higher risk of serious health issues indirectly caused by loneliness and isolation.
During this public health crisis, we all should strive to use some creativity and intention to ensure regular contact with friends, neighbors, and loved ones. By using video chats, phone calls (or texts), or maybe even an "old fashioned" letter, we can offer the next best thing to being there. Home Instead Senior Care and its home care workers are providing that daily human interaction, too – via in-person visits or technology – that allows seniors to stay connected and engaged. Every Home Instead client receives a Care Tablet that is pre-loaded with his or her contacts (friends and family) that makes staying connected as easy as clicking a button.
While staying home is good strategy for us to avoid exposure, the social distancing makes us feel, well, socially distant. But there are things all of us can do to stay connected. While the world stays home to prevent illness, family members, neighbors, friends – all of us! – must reach out to our neighbors and loved ones to make sure our seniors stay engaged. There is a source for ideas about acts of kindness: go to www.ReadyToCare.com and sign up to receive free weekly tips, care missions and inspiration from others delivered right to your phone. If everyone can do a little bit of caring, together we can care for everyone.
During this time of uncertainty, Home Instead is providing kind, compassionate care to seniors in their own homes, the safest place to be. Until a vaccine is created, staying at home, even with a little help, is the best way to minimize the risk of contracting COVID-19, a very contagious disease. Of course, our CAREGivers are using "universal precautions" and best practices as outlined by the CDC and are mindful of the vulnerabilities of this very important group: the seniors we cherish.
Geoffrey Moore
Owner- Home Instead Senior Care
Read More on
Volume 12, Issue 4, Posted 12:52 PM, 05.01.2020