Cleveland Ibn Sina Free Clinic Starts New Tele-Medicine Services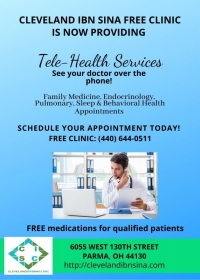 CLEVELAND IBN SINA CLINIC - Located in the great city of Parma, Cleveland Ibn Sina Clinic is proud to announce its new telemedicine program that will allow physicians to continue to see patients in the comfort and safety of their homes. Through avirtual set-up, patients can maintain communication with their physicians, obtain medication refills, and receive public health education, including information on how to deal with anxiety and stress during this pandemic. We have expanded our clinical pulmonary services to address the additional burden of respiratory symptoms in our fight against COVID-19. We also offer appointments for an expansive network of physicians in the fields of endocrinology, cardiology, internal medicine, allergy/immunology, behavioral health, and more.
All patients are seen free of cost, regardless of their background or income. Qualifying patients can also receive
medications for free, due to a generous grant that CISC received. New patients are welcome and encouraged.
Even in these unprecedented times, our doors are open and we are committed to ensuring that our patients' health
needs are met while maintaining a high level of quality care and safety.
Hours of Operation: Saturdays: 10am-2pm & Sundays: 11am-2pm
About CISC: Founded in 2019, Cleveland ibn Sina Clinic is a specialty clinic, providing free services to all, including
physician consults, referrals, medication management, pharmacy assistance, and more.
For more information or to make an appointment, please call at (440) 644-0511
Visit their website at http://clevelandibnsina.com/
Faseeha Raza
Faseeha Raza
Director Communications and Community Health Education Program
Cleveland Ibn Sina Clinic
6055 W 130th St
Parma, OH 44130
Read More on News
Volume 12, Issue 6, Posted 8:58 AM, 06.01.2020