Ohio Nears Passing Bill Promoting Brain Cancer Awareness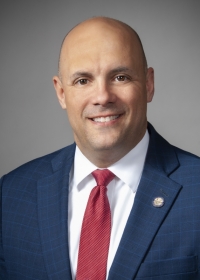 Hundreds of Ohioans every year are diagnosed with brain cancer and, for the vast majority of brain cancer patients, this disease is unfortunately a death sentence. Few that are diagnosed with a glioblastoma brain tumor survive beyond 16 months and the survival rate after five years is even more grim—only 5% live to see the five-year anniversary of their diagnosis. We can and must do more to fight back against this terrible disease. This is the reason why I support "Going Gray in May" to support Brain Cancer Awareness Month and this is why last year I proposed formally recognizing the month of May as Brain Cancer Awareness Month in Ohio with House Bill 230.
We are closer than ever to passing this bill. In December, the Ohio House passed the bill without opposition and the bill has recently had hearings in the Ohio Senate. There is good reason to hope that this bill will be passed and signed into law shortly and it cannot come any sooner. Every year over 86,000 new adult patients will be diagnosed with brain tumors nationwide with 26,170 (roughly 30%) considered malignant. In addition, 3,720 children will be diagnosed with primary brain tumors and today, brain cancer is the number one cause of cancer deaths in children, exceeding leukemia.
Our family first encountered brain cancer in 1986 when my paternal grandfather received his brain cancer diagnosis and thirty years later, my mother received the same diagnosis. In learning about brain cancer, one thing that stood out was, despite the advances in modern medicine, including improvements in neuroimaging, neurosurgery, radiotherapy, and chemotherapy techniques, the outcomes for brain cancer patients has changed little. My mother did not survive any longer than my grandfather, despite the tremendous progress we have made against other forms of cancer during that 30 year span. Nevertheless, it is the progress made with diseases like breast cancer and leukemia that provide hope for brain cancer patients.
In the 1970's a leukemia diagnosis was a virtual death sentence. Now, due to the efforts of the many people who have sought to raise awareness and raise money for research, patients with leukemia have far more hope at recovery. Without the aid of groups like the Susan Komen Foundation, we may have never made strides in breast cancer treatments that we have today.
Awareness months give hope to the people diagnosed with a serious illness like brain cancer. Raising awareness means educating people on symptoms that might lead to an earlier diagnosis and better long-term outcomes and it means informing people about the challenges and obstacles faced by the people dealing with brain cancer. Raising awareness signifies to the patients and their families that we support them as they wage their fight against this terrible disease. Finally and equally important; raising awareness means promoting efforts to raise additional funding for more research into treatments that will lead to better outcomes and, dare we hope, a cure. Through these efforts, we might begin to overcome the fact that between 1998 and 2014, there were 78 investigational brain tumor drugs that entered the clinical trial evaluation process yet 75 failed. That represents a 25:1 failure ratio in developing new brain tumor treatments over a two decade period.
While raising awareness may seem like a small step, it's a step in the right direction and a step that gives the many Ohioans who deal with cancer hope that we can eventually defeat this dreaded disease. For more information, contact Rep. Jeff Crossman via email at Rep15@ohiohouse.gov by telephone at (614) 466-3485. You can follow him on facebook/CrossmanForOhio and Twitter @jeffAcrossman
Jeffrey Crossman
Representative Jeffrey A. Crossman has been serving Parma as its State Representative since January 2019. Prior to serving in the Ohio Statehouse, Rep. Crossman served as Parma's Ward 9 City Councilman.
Read More on News
Volume 12, Issue 6, Posted 8:56 AM, 06.01.2020