Operation Happy Pup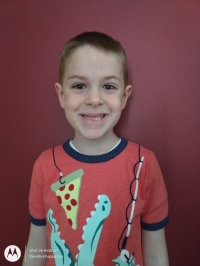 Operation Happy Pups is the story of a little guy on a big mission. Lucas Woronischtsche's story begins in October of 2018. To a 4 year old, Halloween is a very special time. It's magical. You get to choose a costume, dressed up as whatever you want to be. It can be the latest super hero from the comics, or something funny, like a clown, or whatever you want to be when you grow up. Lucas chose his policeman costume with care.
Annually, the Saturday before Halloween, the Polish Village volunteers sponsor Treat & Greet. This has become a much anticipated event in the community. During the daytime hours you see hoards of costumed children, accompanied by their parents, trick-or-treating the participating businesses along the commercial district in Polish Village on Ridge Road. For several years now, the Parma Police and Fireman have also participated. It was there that 4 year old Lucas met Parma Policeman Jackson and Police K9 Dexter. I saw Lucas on that very important day in his young life. He was certainly adorable and rockin' that uniform. This was the special day in Lucas's life where he made an important decision. Lucas decided he not only wanted to be a policeman when he grew up but he wanted to do something NOW for the K9's.
So for two years now, Lucas has saved his allowance, he's sold hot chocolate and lemonade, using the proceeds to purchase gifts for the K9's. He visits the police station frequently. He brings treats not only for the police dogs but his friends the policemen, like candy and snacks. He looks for ways in which he can make a difference in his community to help the K9 Unit, consisting of K9's Beny, Coney, Dexter and Max. Christmas, Valentine's Day, holidays, he recognizes the hard working K9's with off duty toys and on duty reward tugs.
In January of 2019, Mayor Tim DeGeeter and Parma City Council awarded Lucas the Citizen of the Month. He is the youngest recipient of this award. Lucas loves Parma and calls Mayor DeGeeter, "my mayor". A remark I'm sure will warm Mayor DeGeeter's heart.
Recently Lucas was gifted a Parma K9 hoodie. When he wears it, he holds his head slightly higher and alludes the confidence and forebearance of one belonging to a special unit.
As a mother and grandmother I want to commend Lucas's parents for encouraging him to follow his passions. As a long time resident I want to say that I am proud to have Lucas and his family in my community.
And last but not least, it's official, in May of this year, Operation Happy Pups was recognized by the IRS as a tax deductible 501(c)3 nonprofit. I would imagine Lucas can now claim to be the youngest CEO of a nonprofit. By the way, you, the reader, can help support Lucas in his endeavors through Operation Happy Pups on Facebook and Instagram by purchasing shirts and challenge coins, or making donations.
Keep up your good works Lucas, as a community we are proud of you!
Kathryn Mabin
Board Secretary of Parma Area Fine Arts Council, Inc, or PAFAC, and Artist/Jewlery Designer, Owner Aire of Oppulence.
Read More on News
Volume 12, Issue 6, Posted 8:58 AM, 06.01.2020