Beit She'an Israel: Reflections In VolunTourism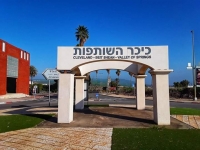 In a world historically rife with tension and foray as a resulting effect of cultural, religious, socio-political, and geo-economic differences throughout the intricate landscape of humanity, there are beacons of hope that continue to rise far above the challenges of the past, and lend light to the promise of a new tomorrow.
Between the Jordan River Valley and Mount Gilboa, just south of the Sea of Galilee to the north of Jerusalem, one such beacon of creative and intentional life springs forth out of the high desert - the city of Beit She'an, sister city to Cleveland Ohio, by way of coordinated efforts imparted through the Jewish Federation of Cleveland in its decades long initiative to help bridge and narrow the gap between Israel and the Jewish diaspora.
Efi Mazor, Project Manager with The Jewish Agency for Israel in Beit She'an, was highly instrumental in coordinating all necessary logistical aspects on the ground that were vital for us to fulfill another successful mission between Cleveland and Beit She'an, including that of establishing the connection with my wonderful host family, of whom opened their door with open arms to a humbled gracious stranger from America.
Jewish Federation of Cleveland Director of Overseas Missions & Engagement Kelly Rubanenko and Managing Director, International Operations Ilanit Gerblich Kalir entrusted me with a very unique volunteering opportunity to witness firsthand the wealth of great creative development and social work that is currently culminating in two very distinct programs of impeccable substance within Beit She'an academia: The Music Centre, and the Youth Futures program at Tachkemoni Elementary School.
The Music Centre, headed up by esteemed Director Omer Gabay and his exceptional staff, is a remarkable reflection of a sincere, deeply rooted desire three years ago to resuscitate a field of dreams, a passion he held close to his heart and was determined beyond measure to see through to fruition – that dream, simply enough, was to exemplify the once struggling vision of a former unrealized glory to that of the full-fledged blossoming institution it has become today. A dynamic creative force of nature (Gabay) that took a quiet unassuming facility practically all but forgotten, and breathed an awe-inspiring zest of life into it once again, dramatically turning the program around from a handful of students and one teacher, to a building abuzz with pulsating rhythms and melodies of not just the instruments alone, but the true miracle of renewed excitement and energy itself through the heightened vitality and clamorous merriment of the students and faculty themselves.
A short distance away is a profound measure of equal vitality, a symphony of melody in its own right – that of the Tachkemoni School, headed by Principal Yochi Nachmani, and their paramount work in harmonic partnership with Youth Futures Beit Shean, Director Lital Golan-Gabay.
Youth Futures is a leading-edge youth at risk mentor program heavily supported by the Jewish Federation of Cleveland. Youth Futures delicately discerns and identifies attentive ways for its mentors to judiciously observe and address qualifying markers of students exhibiting the call signs of risk, in an ongoing effort to listen more closely with intention to verbal and non-verbal expressed needs, and provide the compassion and empathy necessary to help steer those in the program towards more healthy outcome measures, and ultimately, recovery and healing.
Like the Israeli landscape itself, and the many combined efforts that have tirelessly gone into repurposing the once barren beginnings of the nation to the vitality it is today with abundant life, so too is the caretaking, growth, and development of the young - a spirit and purpose of which Youth Futures and The Music Centre keenly understands and incorporates into their mission(s).
What I gathered most from my time shared in Beit She'an, was the reminder that we all in some way enter into our own unique deserts of which we wander at various stages of life, and it takes bold bright initiatives from within to help guide each other through the wilderness to the promised land to come…
Davidione Pearl
Freelance travel-writer, musician, photographer, philanthropist..
Read More on
Volume 12, Issue 7, Posted 10:46 AM, 07.01.2020