Parma Art Scene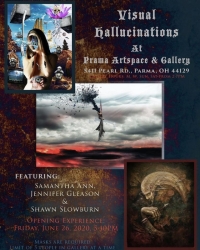 Prama Artspace Gallery, located at 5411 Pearl Rd., is excited to finally reopen. The opening exhibit is titled Visual Hallucinations and features the works of three artists, Samantha Ann of Intention Studio, Jennifer Gleason of JAG Artistry and Shawn Slowburn. Masks are required, and capacity is limited to five (5) people at a time. The gallery is open Monday, Wednesday, Saturday and Sundays, from 2 to 7 P.M. Scheduled private appointments are also available. Surreal digital photography and mixed media. This exhibit runs through July 19th. Come and let your mind wander.
Mary Ford, Parma resident, answered the international call for artists for the MVVO Ad show in New York City. The exhibit is being shown on big screens in The Oculus of the World Trade Center. A Clio Award, one of the most prestigious advertising awards, will be presented. This event was also featured in Time Magazine. Twelve of Mary's pieces were juried/selected, into this event. You can view this event at www.mvvoart.com. Congratulations Mary! Parma is cheering you on!
Sean Mabin is one of the contributing artists in the 29th edition of Hand Magazine. Hand Magazine is an ad free publication, issued quarterly, based out of Prairie Village, Kansas. In existence since 2013 it features the works of artists involved with "alternative" and historic photographic processes and printmaking. You can order this magazine online at www.thehandmagazine.space for $10, shipping included. They also curate or jury exhibitions and maintain a strong social media presence on Facebook and Instagram.
Craig Lindsley, Parma Area Fine Arts Council Board Member, has collaborated with nine other artists to create Quarantine Zine. Quarantine Zine is a compilation of comics and art works created by Cleveland area artists during the pandemic crisis and assembled, printed, and displayed at the Cleveland Heights Lee Road Library. You can view this online at https://heightslibrary.org/wp-content/uploads/2020/05/CORONAZINE-2020-05.pdf.
Mary Ford, Parma resident, is one of forty-four female artists participating in the Creative Women Today V exhibit at Creative Space Avon Gallery, located at 33760 Lear Industrial Pkwy in Avon. Theme of the show is "about women". Mary has two pieces of her work in this exhibit, a painting and a photograph. This show runs through August 1, 2020. Private appointments can be made for viewing by texting Judy@440-823-7406. Note: Masks are preferred and are worn by artists and staff and social distancing will be followed per Ohio guidelines.
Sean Mabin, owner/operator of Prama Artspace & Gallery in Parma, is currently on exhibit at Toast Wine Bar in Gordon Square, located at 1365 W. 65th St. This solo exhibit includes his recent work in photography from Cleveland and surrounding areas, as well as some of his Lotto series drawings. Stop in, have a glass of wine, and browse. Exhibit runs to August.
Michelle Behal, President of Parma Area Fine Arts Council, whose works include pyrography (wood burning), acrylic painting, pen & ink, and calligraphy, is now selling her wares at the Ohio Artisan Collective at Aurora Farms, The Rift Shop, and soon to be at Avon Commons. Her new items include birch tree wreaths, wine boxes, fairy dusters, and rustic fabric hand sewn face masks, as well as her staple book marks, wall clocks, coaster sets and wall hangings. You can preview her work at www.beartracksart.com.
Lena Simovic, of Lena Atomika Photography, and Parma resident is exhibiting at Worthington Yards Art Gallery, 725 Johnson Court, in Cleveland. The event is titled Art Made in the Shut Down. Admittance by appointment only, contact Liz Maugans, Director at yardsproject@gmail.com or call 216-570-0324.
Kathryn Mabin
Board Secretary of Parma Area Fine Arts Council, Inc, or PAFAC, and Artist/Jewlery Designer, Owner Aire of Oppulence.
Read More on News
Volume 12, Issue 7, Posted 10:46 AM, 07.01.2020