UH Parma Medical Center Requires Masking, Screening Of All Visitors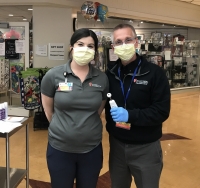 Throughout the COVID-19 pandemic, University Hospitals Parma Medical Center has made the safety of patients and caregivers its top priority. The hospital has adjusted its visitation policies effective June 23. "Allowing visitors into the hospital is a welcomed transition to partner with friends and families, focusing on the care and well-being of our patients," says Chief Medical Officer Kimberly Togliatti-Trickett, MD. "But masking is important for the safety of all."
Every person – patients, visitors and staff – at any UH facility must wear a mask. Visitors who cannot wear a cloth mask at all times or refuse to wear a mask will not be allowed to enter the facility. All who enter the building, including patients, visitors and staff, are screened for symptoms of COVID-19 and a temperature under 100.0 degrees F (37.8 C). Symptoms of COVID-19 may include new or worsened cough, fever, shortness of breath, chills/body aches, new loss of taste or smell, nausea/vomiting and runny nose/congestion.
Each patient is allowed a single visitor per day, and visitors are encouraged to go directly to the patient's room and not to linger in lobbies or the cafeteria. Visitors should come in through the main entrance from 6 a.m. – 6:30 p.m. "We know that visitors and loved ones play an essential role as partners in healing and wellness," says Chief Nursing Officer Kim Monaco, BSN, RN. "Limiting and screening visitors are very important ways to limit the risk of possible exposure to COVID-19. And we really appreciate when people enter wearing their mask from home – and remember to keep it on the entire time they are in the hospital."
The Emergency Department is not permitting visitors. Exceptions will only be made for patients under 18 or those 18 years of age or older who have screened COVID-negative and are clinically unable to actively participate in their care.
No patients with confirmed COVID-19 will be allowed visitors. The only exceptions will be made for end-of-life care by special approval from the Chief Nursing Officer or Chief Medical Officer.
"As the COVID-19 pandemic evolves, UH hospitals will continue to adapt to the changing situation," says Dr. Togliatti-Trickett. "Your understanding and support during this pandemic are appreciated. Our highest priority is the safety of our patients and families."
CJ Sheppard
Senior Communications Strategist, University Hospitals Parma Medical Center
Read More on Parma General Hospital
Volume 12, Issue 7, Posted 10:47 AM, 07.01.2020