UH Parma Medical Center Wins Award For Environmental Excellence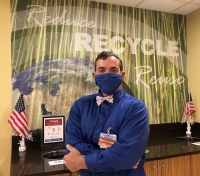 The pandemic prompted the environmentally minded staff at University Hospitals Parma Medical Center to begin making masks out of sterile wrap used for surgical instruments. Organized by nurses and fueled by volunteers sewing them, this effort that yielded more than 300 masks was not just resourceful but environmentally sound.
UH Parma and Cleveland medical centers were among the hospitals across the country hailed as Partners for Change by Practice Greenhealth, the nation's leading organization dedicated to environmental sustainability in health care. Both hospitals are being celebrated for their ongoing commitment to substantially reducing their environmental impact.
The Partner for Change Award recognizes health care facilities that continuously improve and expand upon programs to eliminate mercury, reduce and recycle waste, source products sustainably and more. Winning facilities must demonstrate that they are recycling at least 15 percent of their total waste, have reduced regulated medical waste, are on track to eliminate mercury, and have developed successful sustainability programs in many areas.
At UH Parma Medical Center, 25 percent of food purchases are local and/or sustainable, and the hospital realized a 9 percent reduction in solid waste from the prior year. Contributing to the overall reduction in solid waste was a 32 percent reduction in paper use compared to 2017. The hospital's efforts to reduce energy consumption resulted in a 6 percent reduction in greenhouse gas emissions.
The mask-making effort brought on by the pandemic is yet another opportunity to recycle at the hospital. Last year, members of the Sustainability Committee sported red waste bags on a
"Trashionistas tour" around the hospital to tout the importance of knowing where to throw waste and when to recycle.
"We are honored to achieve this recognition from Practice Greenhealth for the fourth year in a row," says Jay Loughner, Manager of UH Parma's Food & Nutrition Services, who leads the hospital's Sustainability Committee. "By focusing on initiatives that our staff can participate in, like encouraging local food choices and handling waste in a sustainable fashion, we have been able to make significant progress in achieving our environmental goals.
"The initiatives and efforts truly demonstrate commitment to our core values of excellence and teamwork."
CJ Sheppard
Senior Communications Strategist, University Hospitals Parma Medical Center
Read More on Parma General Hospital
Volume 12, Issue 7, Posted 10:46 AM, 07.01.2020