Welcome To Parma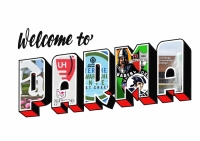 If you are reading this article, then you probably love Parma as much as I do and are willing to do your part to make it even better. Sadly, the COVID-19 pandemic has put a damper on 2020. In fact, normally I would be devoting much of my time recently to planning the Parma Run-Walk for Pierogies. It was very saddening to have to cancel this fun summer event. However, I have diverted the time I typically spend on the Run-Walk to a new, exciting project for Parma.
Graffiti HeArt is a 501(c)3 non-profit Founded by Stamy Paul – a Valley Forge High School graduate - that develops opportunities for graffiti and street artists to create art installations with donors looking to bolster community beauty and pride, while funding educational opportunities for under served youth. The organization's projects generate commissions for talented aspiring and accomplished artists, as well as fund art education scholarships.
Being an educator and lover of the arts, I was inspired by the fine work of Graffiti HeArt. I have been particularly moved by the Welcome to Tremont and the Greetings from Cleveland murals, both made possible by Graffiti HeArt. That is why I recently contacted Stamy to bring a Welcome to Parma mural to a wall on one of the entranceways into our community. As you know, I led the effort to bring Script Parma to our community, which has brought so much excitement to Parma, and I am just as excited about this project. I am so pleased to say that Stamy is equally excited about this project and has agreed to partner on it.
Research shows that community murals offer many cultural, economic, and social benefits. We are confident that the Welcome to Parma mural will surely do so. Therefore, our goals include the following benefits to the community: enhancing pride in Parma, quality of life for residents, youth development, the vibrancy and aesthetics of our community, positive mental health, and feelings of attachment, identity, and belonging, more public art breaks down socioeconomic disparities (no costs, like going to a museum), expressing a welcoming spirit to visitors which has economic and many other benefits, a community that expresses care is a safer community, and you can be a part of all of this and help make it happen.
The estimated cost of the grassroots project is $15,000. Like the Script Parma sign, our plan is to bring the project to life with private donations – not using taxpayer dollars. We hope that you might consider helping in any way that you can to help us reach our goal. Your donation is tax deductible. Checks can be made out to Graffiti HeArt and can be mailed to Graffiti HeArt c/o Welcome to Parma, 2452 West 7th Street, Cleveland OH 44113. You may also donate securely online at ioby.org/project/welcome-parma-mural. In fact, our project is eligible for matching funds from the Cuyahoga Arts and Culture program, so your donation will be doubled!
Please feel free to contact me if you have any questions at councilmanbrennan@msn.com or 440-885-8091. Also, please check out Graffiti HeArt's website at graffitiheart.org to find out more about this fine organization. Thank you in advance for your time and consideration.

Sean Brennan
Parma City Council President Sean Brennan
Read More on News
Volume 12, Issue 7, Posted 10:47 AM, 07.01.2020