Ohio House Speakerís Alleged Criminal Enterprise Hurt Us All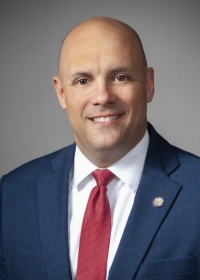 On Tuesday July 21st, news broke that the Speaker of the Ohio House, Larry Householder (Republican, Glenford), had been arrested and arraigned on criminal charges stemming from his work to get House Bill 6 passed in 2019. This is now the second Ohio House Speaker in the past three years that will leave under the cloud of an FBI investigation (although as of this writing the Speaker has not resigned, it is expected that he will). Cliff Rosenberger's resignation under similar circumstances in 2018 opened the door for Householder seize the Speaker's gavel.
For those who are unaware, HB6 was the controversial "nuclear bailout" bill that, once passed and signed by the Governor last year, added a fee to electric bills to help subsidize the operation of two nuclear reactor facilities located in Lake and Ottawa counties. First Energy claimed that it needed this massive taxpayer funded subsidy (over $1B) or the two reactors would need to close.
This deal stunk from the start. The proponents of the bill fought hard to eliminate any transparency requirements from the bill, refused to impose caps on the amount of the subsidy that would ultimately be provided, and eliminated energy efficiency standards that had saved Ohio consumers millions of dollars since their implementation. In short, HB6 appeared to be a blank check to a corporation funded by consumers---a bad deal for Ohioans. This is why I voted "No" on its passage the two times it came to us for a vote (the Ohio Senate passed the bill with changes which required a second House vote). What we did not know at the time is that this bill might also tainted by corruption.
As the recently published criminal complaint alleges, Householde, along with lobbyists, created a fictitious entity to receive political contributions secretly and with the identities of the contributors concealed. These contributions were then used to help elect candidates that would support Householder's election as Speaker and then the passage of HB6 in 2019. According to the complaint, Householder also personally benefited with payoffs in the $61 Million scheme to buy statehouse seats, get HB6 passed, and survive a referendum to repeal the bill once passed. The indictment also alleges that, after the bill passed, Householder and others schemed to offer illegal bribes to help stop the effort to get the referendum on the ballot to repeal HB6. Now that these allegations have come to light, Ohio House members will be taking steps to repeal HB6 as soon as possible and will hopefully embark upon an honest and transparent discussion about Ohio's energy future.
Ohio needs an energy policy that promotes job growth across many sectors and begins to move Ohio toward cleaner (and cheaper) energy alternatives. While some argue that nuclear emits no carbon and is therefore "clean" this argument ignores the nuclear waste created and the other costs associated with generating electricity in this manner. The discussion over HB6 was not only apparently tainted by the alleged scheme, it was a significant missed opportunity for Ohio to plan for its long term energy needs and job growth.
While some may expect Democratic representatives to be happy that yet another Republican Speaker has been implicated in criminal wrongdoing, I can say definitively that we are not. The type of misconduct disparages every member of the Ohio House and erodes the people's confidence in their elected officials. In law school, we are taught that even the "appearance of impropriety" is enough to diminish the standing of the legal profession as a whole and that we all have an obligation to stamp out improper and illegal conduct. The same goes for those in public office. There are so many hard-working members who want nothing more than to serve their communities and are disgusted by this alleged scheme; these allegations do nothing to help the people of Ohio.
We now must work to restore the integrity of the Ohio House and I have no doubt that there will be many members up to the task. Many of us came to the Ohio House to perform a public service and diligently dedicate themselves to doing the people's work and it is up to us to ensure that this work continues. It is up to the public to ensure they know as much as possible about their elected officials before they vote and hold them accountable while they are holding office.
Rep. Crossman is a Parma resident and may be contacted locally at home at 216-373-6926 or via social media on facebook @Crossmanforohio and Twitter @jeffacrossman. His email is Rep15@ohiohouse.gov
Jeffrey Crossman
Representative Jeffrey A. Crossman has been serving Parma as its State Representative since January 2019. Prior to serving in the Ohio Statehouse, Rep. Crossman served as Parma's Ward 9 City Councilman.
Read More on News
Volume 12, Issue 8, Posted 7:34 PM, 08.04.2020