Parma Document Shredding & Food Drive Scheduled Aug. 8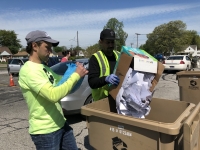 For those who want to safely dispose of confidential documents, the City of Parma is hosting a Document Shredding & Food Drive, 9 a.m. to noon, Saturday, Aug. 8 at 6285 West 54th St., Parma Senior High School, rear parking lot. Residents should enter the lot from Longwood Avenue.

Participants will be asked to show proof of residency. A driver's license, gas bill or electric bill are acceptable forms of identification. There will be no limit on the amount of documents shredded, but residents are being asked to make a donation to All Faiths Pantry. Monetary donations are preferred because the Pantry can receive food from the Greater Cleveland Food Bank at a discounted rate.
"A $20 donation provides almost two grocery bags towards the 450 households we serve each month," explained Felicia Martinez, executive director of the Parma-based All Faiths Pantry.
Those who prefer to donate items are asked to bring products from the following list: paper towels, facial tissues, toilet paper, paper napkins, cleaning supplies, bar soap, hand soap or hand sanitizer.
"Paper products, soap and cleaning products are the most sought-after items. Many senior citizens who need assistance and aren't comfortable shopping in the stores during this pandemic are asking for these products," Martinez said. The Pantry provides monthly free groceries to the homes of low-income senior citizens and those with limited mobility who need assistance.

All Faiths Pantry volunteers will be at the shred event to collect donations. For everyone's safety, the process of dropping off donations, as well as documents, will operate similar to a drive-through service. After showing proof of residency to a volunteer worker, Parma residents should drop off documents to be shredded and then exit the parking lot. Two trucks from Stericycle will be on site to quickly shred all documents.
Residents should make sure their documents are not bound with rubber bands, paper clips or binders. Also, no plastic folders or plastic sleeves can be included because plastic, rubber bands and clips can jam the shredding machine.

"A grant from the Cuyahoga County Solid Waste District is covering the cost of this event, which is why the shredding service is free to our residents," said Parma Mayor Tim DeGeeter. "Many residents have asked us since the reopening if we could reschedule this event, which normally occurs in May. We are glad we can safely offer this service again and combine it with a food drive for All Faiths Pantry, which is assisting our senior citizens during this pandemic."
Residents are not required to register, and the event will not be postponed or canceled if it rains. This shredding service is available to Parma residents and not businesses.
Carolyn Kovach
Carolyn J. Kovach
Director of Communications, City of Parma, Mayor's Office
Read More on News
Volume 12, Issue 8, Posted 7:34 PM, 08.04.2020