UH Parma Leaders Promoted in Western Region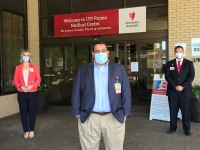 University Hospitals has announced expanded roles for three leaders at UH Parma Medical Center. This operating model aims to deliver the highest value health care for the West Market communities from Parma to Ashland and Westlake to Elyria, including affiliated UH health centers and other patient access points in the western region of Northeast Ohio.
UH Parma Medical Center President Brian Monter, MSN, RN, MBA, also will serve as Chief Operating Officer for the West Market region. Hospital presidents at UH Elyria, Samaritan and St. John medical centers will report to him. Monter began his career as a cardiac nurse and came to UH in 2016 to serve as President of UH Bedford and Richmond medical centers, campuses of UH Regional Hospitals. He transitioned to lead UH Parma Medical Center early last year.
The senior physician leaders at UH Parma Medical Center, both of whom are residents of Independence, have both been promoted.
Kimberly Togliatti-Trickett, MD, Chief Medical Officer for UH Parma, assumes the role of Associate System Chief Medical Officer (CMO), West Region. She will support UH's West Market CMOs and UH goals for value-focused care and integrated delivery. Dr. Togliatti-Trickett, a practicing physical medicine and rehabilitation/internal medicine physician, has provided strong clinical and administrative leadership for the UH Parma medical community for nearly two decades. Dr. Trickett will report to the system Chief Medical Officer, Willie Brien, MD.
James Hill, MD, MBA, CPE, Associate Chief Medical Officer for UH Parma, will assume the Chief Medical Officer position at UH Parma as Dr. Togliatti-Trickett and Monter take on their expanded responsibilities. Dr. Hill came to UH in 2015 as Chief of Trauma Anesthesiology and played a key role in developing UH Cleveland Medical Center's Level 1 trauma center. He was named system Medical Director in 2016 and led all aspects of UH blood management operations. At UH Parma, he has been a driver of improvements in quality and patient experience. He will continue to report to Dr. Togliatti-Trickett.
"These appointments establish strength in leadership for the West Market," said Eric Beck, DO, MPH, UH System Chief Operating Officer. "They enable a more unified approach and enhance our ongoing efforts to further integrate the delivery of care and evolve our health system for success as a value-based organization."
CJ Sheppard
Senior Communications Strategist, University Hospitals Parma Medical Center
Read More on Parma General Hospital
Volume 12, Issue 8, Posted 7:34 PM, 08.04.2020