A Message From The PCSD Superintendent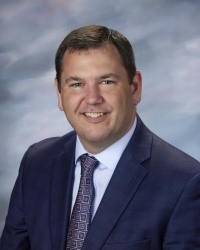 We are excited to present to our voters this November a ballot issue that has the potential to dramatically renew the education we provide to our students and, in a larger sense, revitalize our three communities. If voters approve our construction bond issue, we will build two new secondary campuses (Grades 6-12) on the current sites of Normandy and Valley Forge and transform Parma Senior High School into a Community Educational and Wellness Center, in partnership with University Hospitals. The state of Ohio, through the Ohio Facilities Construction Commission (OFCC), will contribute $69 million toward the cost of these projects and the homeowners will contribute $18.08 per month per $100,000 of their property value.
We are building our informational efforts around three very critical entities. First, "Our Students." Our students deserve the best possible learning environments and our current facilities do not provide the 21st century experience they deserve. Our new campuses will feature STEM learning labs that we will build in partnership with Cuyahoga Community College. Classrooms will be flexible learning spaces with the most up-to-date technology and Career Technology facilities will be upgraded to ensure that our students have the best tools to prepare them for entry into the workforce upon graduation.
Next, "Our Communities" and ALL residents will benefit from this investment. We all know that strong schools lead to strong communities and we have to be competitive with our neighboring districts who compete for the same young families that we want to attract as residents. Beyond this investment of property values, though, we are committed to using all of our new facilities as 18-hour, "Community Campuses." The pool, gym, an elevated walking track, and the auditoriums at Parma Senior High School, specifically, will be open during the school day for residents from our three communities. The east and west campuses will have evening hours for walking, just as we have already started in our current schools.
Finally, this is "Our Time." Our youngest operating school opened during the Lyndon B Johnson administration. Our repair costs alone have tallied over $5 million just in the last five years. Despite these best efforts, our facilities are not competitive with many in neighboring districts. The state of Ohio has invested over $11 billion in new construction just since 2012; none of this has come to our three communities. The OFCC is committed to a $69 million contribution to our project; this money will eventually go somewhere else if we do not seize this opportunity.
On November 3, our voters will have the opportunity to energize and rebuild our schools. Our Students deserve the best we can offer them, and Our Communities will benefit in many ways. It is Our Time!
Charles Smialek
Dr. Charles Smialek
Parma City School District Superintendent
Read More on News
Volume 12, Issue 9, Posted 8:33 AM, 09.01.2020