Gov. DeWine Signs Crossman Cancer Awareness Bill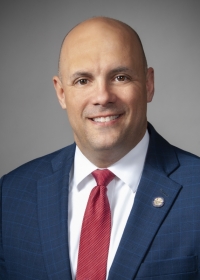 In August of 2016 our family received the terrible news that my mother had been diagnosed with a glioblastoma brain tumor. These types of tumors are extremely aggressive and most people diagnosed with this type of cancer succumb to the disease within 16 months. This is obviously devastating news for any family to receive and our family received this twice. First in 1986 with my grandfather and my mother's 30 years later.
What I was most surprised to learn about this disease is that, in that 30 year span between the respective cancer diagnoses, how little science had progressed in treating brain cancers. Medical science has improved in so many areas—but, despite the introduction of new medicines or treatment techniques, brain cancer survival rates remain stubbornly low.
We have made significant advances with other cancers. Childhood leukemia is no longer the number one cancer killer in children (it's now juvenile brain cancer) and the number of women that have died from breast cancer has dropped 40% in the past 25 years according to the American Cancer Society. This is tangible evidence that dedicated efforts to raise awareness and increase funding for research can have long-term, positive effects. While there have been a number of high profile deaths from brain cancer from former Cleveland Browns owner Al Lerner to, more recently, Senators Ted Kennedy and John McCain, brain cancer is not a frequently discussed cancer, which is why I was pleased to propose House Bill 230 which, now that it has been signed into law by the Governor (on August 25, 2020), all of Ohio will recognize the month of May as "Brain Cancer Awareness" month starting in May 2021.
It is my hope that, by dedicating a month to Brain Cancer Awareness, we can begin to turn the tide on this disease. Perhaps by raising awareness, we can help people understand the symptoms that may lead to an earlier diagnoses and better outcomes. Raising awareness will also help raise funds for additional research which is badly needed since the overwhelming majority of new medications and treatments have failed to stem the tide of brain cancer deaths across the country. Regardless, it is my hope that formally recognizing a Brain Cancer Awareness month is one step forward to help other families across Ohio feel supported in knowing that others out there understand their experience and are working toward a brighter future when it comes to eliminating brain cancer. State Representative Crossman lives in Parma and can be reached at home at 216-373-6926. Follow him on facebook at /crossmanforohio
Jeffrey Crossman
Representative Jeffrey A. Crossman has been serving Parma as its State Representative since January 2019. Prior to serving in the Ohio Statehouse, Rep. Crossman served as Parma's Ward 9 City Councilman.
Read More on News
Volume 12, Issue 10, Posted 4:32 PM, 09.25.2020