A Pierogi Party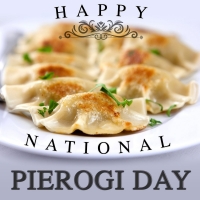 October 8th is National Pierogi Day and what better place to start the celebration but Rudy's Strudel at 5580 Ridge Road, with Lidia the Parma Pierogi Princess. From 11 to 7 P.M. drive up/pick up pierogi, live D.J., pierogi eating contest, and giveaways. All following social distancing safety mandates.
Save your Rudy's receipt and stop at Prama Artspace Gallery, 5411 Pearl Road, and receive a discount upon purchase from the gallery or the boutique.
And the party continues with Food Truck Friday all weekend long, stop at the numerous food trucks stationed throughout Polish Village and celebrate National Pierogi Day.
Grand Opening! The Current Year Vinyl, 5580 Ridge Road, adjacent to Rudy's. Vinyl specialties including psych rock, classic rock, jazz lounge and exotica vinyl.
It's a Polish Village weekend long Pierogi Party! Join in!
Kathryn Mabin
Board Secretary of Parma Area Fine Arts Council, Inc, or PAFAC, and Artist/Jewlery Designer, Owner Aire of Oppulence.
Read More on News
Volume 12, Issue 10, Posted 11:59 PM, 09.30.2020