# Meet Me In Parma: City Visitor's Guide Moving Forward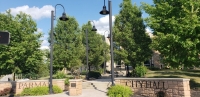 As Cleveland's largest suburb, Parma has so much to appreciate and enjoy. Knowing this, last year, City Treasurer Tom Mastroianni suggested that We Are Parma Proud produce a Visitor's Guide that would showcase the very best that the city has to offer. This resource would show the world beyond our city limits why Parma is so appealing, and it could become our premier promotional piece year after year after year.
With the NFL Draft (hopefully) coming to Cleveland in the spring, and the NBA All-Star Game arriving in 2022, we recognize a perfect opportunity to truly put Parma "on the map." And so, earlier this year, we began working on # Meet Me in Parma: A Visitor's Guide for Cleveland's Largest Suburb. This guide--which will boast both a hard-copy booklet and an interactive, digital platform--aims to become the first, best, and most comprehensive resource that visitors will use when looking for attractions and planning a trip to Parma.
We have partnered with the award-winning, Akron-based firm Lunar Cow (https://lunarcow.com/) and we're especially excited about the digital component of this project. Not only will it feature links to websites and Facebook pages, but it will also include the patented iMap: a mobile, interactive guide and trip planner customized to highlight specific interest points.
With the chance to reach an untold number of people throughout the next year, many business and organizational leaders have already seen the value in making sure that their names and brands appear in this guide. After all, exposure in a "hard copy" booklet and in an online vehicle that will exist for a full year is an amazing opportunity for our Parma establishments.
If you're interested in learning more about the guide, visit the website ( https://bit.ly/32VUq8d ) or check out our Facebook page. We're looking forward to seeing how everything comes together the next few months!
Read More on News
Volume 12, Issue 10, Posted 11:58 PM, 09.30.2020