Parma Auxiliary Police Turn 70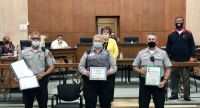 They show up at parades, football games, funerals, concerts, teen dances and city council meetings. From directing church carnival traffic to PTA meetings, Parma Auxiliary Police handle security and traffic control at citywide public events. They also help write winter parking ban warnings, handle special attention details and assist at sobriety checkpoints. When Parma police need additional support, these officers come to their assistance.
At the Sept. 21 city council meeting, Public Safety Chairwoman and Ward 2 Councilwoman Debbie Lime, Mayor Tim DeGeeter and Parma City Council recognized Parma Auxiliary Police for their 70 years of service to the city.
Training to become an auxiliary police officer is not simple. Before serving, new auxiliary police officers complete a three-phase training regimen, which includes basic training, firearms qualifications, cruiser tire safety, car searches, fingerprinting, defensive driving and other requirements.
In 2019, auxiliary police officers collectively logged 5,744 hours. This year, they are still racking up hours, including time spent assisting with COVID-19 protocols. Operating as a nonprofit, the department accepts donations and occasionally charges for its services to supplement its city budget. The auxiliary officers, however, volunteer their time.
Carolyn Kovach
Carolyn J. Kovach
Director of Communications, City of Parma, Mayor's Office
Read More on News
Volume 12, Issue 10, Posted 11:59 PM, 09.30.2020