Welcome Fall: Decorate Your Parma Home!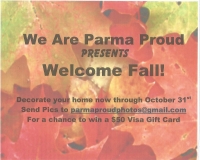 As a follow-up to the wildly successful Parma Patriotic Pride photo initiative this past July 4th, the nonprofit We Are Parma Proud is encouraging all Parma residents to decorate and photograph their homes to celebrate the arrival of autumn and Halloween. This initiative ends October 31st. Residents who submit their photos will have them published on the We Are Parma Proud Facebook page and will also be entered in a random drawing to win a $50 Visa Gift Card. Please send your photos to parmaproudphotos@gmail.com by 11:59 p.m. for a chance to win. Follow and share the hashtag #WelcomeFallParma to spread the word.
Kathryn Mabin
Board Secretary of Parma Area Fine Arts Council, Inc, or PAFAC, and Artist/Jewlery Designer, Owner Aire of Oppulence.
Read More on News
Volume 12, Issue 10, Posted 11:58 PM, 09.30.2020