Is Parma Ready For An Arts District?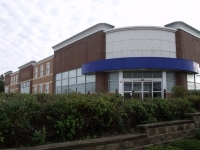 Most people are probably aware of how cities have used Arts districts as re-development tools to breathe new life into local spaces, re-imagine areas that lag in foot traffic, and ultimately attract attention. Many may also be aware that Arts districts enhance the quality of life, and a community can successfully create an atmosphere of creative culture that will ultimately attract new businesses, visitors and new residents. Fortunately, we don't have to look very far from Parma to see neighborhoods that have enjoyed success by fostering the Arts in their communities. Gordon Square Arts District has been recognized nationally among other things for their innovative approach of combining the resources of 3 non-profits in order to accelerate the development of the entire neighborhood. It's quite a gem now, but I can tell you that 35 years ago when I worked in the rent-to-own industry and the West 65th and Detroit Ave. area was my territory, this was most definitely not the case, as this historic section of Cleveland had deteriorated tremendously. Houses were selling there for $10,000 cash in some instances. Not long ago, in a housing development not far from Gordon Square, their first $800,000 house was sold. This would not have occurred if the thriving Arts Community established there had not happened first. Tremont is but another example of how a distressed area over time thanks to the positive effects of an Arts Community can be transformed into a destination for investment and development, with people eager to live in the midst of the creative changes grown there.
Not every neighborhood in every city is necessarily the best place for an Arts District to bloom. In our city, we are fortunate to have older neighborhoods in the north part of Parma that when built were reminiscent of the urban neighborhoods in nearby Cleveland. These walkable areas are a perfect fit. One such place is in fact the birthplace of Parma- it says so on an Ohio Historical plaque situated at the intersection of Ridge and Pearl Rds., where the Fay family were the first settlers in this area. On the site of their inn eventually stood an historic building which housed the Parma Home Bakery. Over a decade ago it was razed in order to build a Rite-Aid drugstore. Unfortunately it wasn't many years later that the store closed, sitting there empty since then- a vacant building for many years now on one of the busiest intersections in the city. I look at that empty shell which obviously will never be a drugstore again, and I see a golden opportunity for this space to be transformed into a community Arts Center that serves as a hub of what will be a vibrant, bustling Parma Arts District.
The changes have already started to occur. Two years ago Prama Artspace and Gallery, the first private art gallery in the seventh largest city in Ohio opened at 5411 Pearl (thanks to Parma's Art Hero Sean Mabin), and is literally a stone's throw away from the former Rite Aid. Just recently on October 25th we celebrated the unveiling of an exciting Welcome to Parma mural created by Graffiti Heart on the side wall of the Planet of the Vapes building directly across the intersection from the same property. While at the ribbon cutting for this new piece of public art, I had several conversations with artists and area property owners who were also quite keen on the idea of turning this former drugstore overlooking this unique neighborhood into a community Arts Center. We agreed that this historic area where Parma was born would be the perfect place for an Arts District to also be born. Dreams and projects start that way- with some people talking, then sharing ideas, then coming to the realization that Can't lives on Won't Street; when you start thinking of how things can happen instead of why they can't, anything is possible.
Cuyahoga Arts and Culture is an organization that oversees the money raised from a special tax on cigarettes used to fund the Arts in Cuyahoga County. Until recent years, our city received almost no money from a fund that most certainly our numerous smokers contributed a great deal to. That has changed a little, as some non-profits in Parma have wisely utilized grants from this group, but the way I see it, we are long overdue for a major partnership with Cuyahoga Arts and Culture, which would involve procuring this property for the use of creating a Community Arts Center in the heart of the Birthplace of Parma. No one council person, mayor, or non-profit alone can get something like this done. As with most worthwhile endeavors, it takes a dedicated team effort, with everyone lending their special talents and working together to reach a shared goal. Let's re-invent this distressed property that we've driven by for years as it slowly deteriorates. Surely if the owners of the property realized that the community could benefit greatly if it were repurposed in such a useful manner, they may be agreeable.
Cities around the world have realized the benefits of developing Arts Districts in the fabric of their communities. The Cleveland Area has demonstrated from one end of the county to the other how the Arts brings progress in many forms when they are introduced and nurtured. Finally, the opportunity has come to our corner of the world. Are we going to meet this moment?
Daniel P. McCarthy
I am the publisher of the Parma Observer. Lifetime resident of Parma for over 50 years.
Read More on
Volume 12, Issue 11, Posted 11:59 PM, 11.01.2020