Mohammad Isaifan: Blue Death Of An Immigrant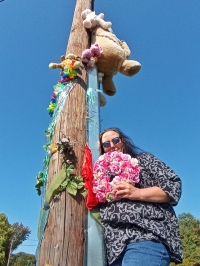 On the morning of December 15th, 2019, the lives of several Akron, Ohio families would forever be changed, particularly those of the late Mohammad Isaifan (40), an Akron city resident that made a name for himself in the community as a master car mechanic, and desired to obtain entry into the Ohio Peace Officer Training Academy (OPOTA).
Early that Sunday morning at approximately 8:30am, his vehicle ran out of gas while on his way to the gun range. He steered it to a stop against the center median on Interstate -76, in the vicinity of East Market Street, at which point he abandoned the vehicle to walk back to his home a short distance away, presumably for a gas can to fill up at a nearby service station and continue on his way.
The Police began to receive calls soon after from neighbors complaining of a "man in camouflage and a vest" wandering the streets – "Special Duty" officers Jamie Rea and Matthew Akers were dispatched to the scene.
Earlier that month, Isaifan purchased a purple and white camouflage outfit, as stated by ex-wife Kimberlee Vaughn.
She recalled the light-hearted moment, fondly joking with Isaifan about the unique purchase. They laughed and shrugged it off.
That morning, Isaifan wore the camouflage outfit he'd purchased earlier that month, and he wore his ammunition vest over it while walking home.
When officers located him walking near Brittain Road and Evans Avenue at approximately 8:54am, per the statement on their report, a struggle ensued when they attempted to search him for weapons, and Isaifan pulled a sidearm from its holster at which point officers Rea and Akers discharged their weapons killing him.
The Summit County Medical Examiner's Office concluded that fifteen shots had entered Isaifan's body, ten lodged and five exited.
Assistant Ohio Attorney General Micah Ault informed Vaughn that one officer discharged five rounds, and the other ten rounds, but did not confirm who shot which rounds, or how many rounds were initially contained in their clips, she said.
Additionally, Ault confirmed with Vaughn that video surveillance from a nearby business exhibited that Isaifan had complied with police when instructed to place his hands in the air, said Vaughn.
In March of 2018, the city of Akron passed an amendment to discontinue the use of dash and body cams, on November 3rd, 2020, Summit county residents overwhelmingly voted to overturn the amendment in the wake of nationwide protests.
Due to lack of evidence, the Summit County Prosecutor's Office escalated the case to the Ohio Attorney General's office, who then presented the case before a grand jury of Summit County residents in late October, 2020.
Neighbors at the scene of the incident reported witnessing Isaifan running away from the police when he was shot, those neighbors were not called in to testify at the grand jury trial, and Vaughn to date does not know what evidence was admitted to the jury for consideration.
Mohammad Isaifan, a Jordanian-born United States citizen of ten years, possessed a weapon on his person that was legal and registered that fateful day – Akron police Lieutenant David Whiddon confirmed additionally, that Isaifan's weapon was not loaded at the time he was killed, said Vaughn.
The Summit County Medical Examiner's Office informed Vaughn that Isaifan was brought in to their custody with his pants pulled down around his ankles, and significant handcuff wounds to his wrists, she states.
Isaifan is survived by his ex-wife Kimberlee Vaughn (renewed fiancé in the months leading up to his death), and their eighteen year old daughter.
Akron Police, the Summit County Prosecutor's Office and The Ohio Attorney General's Office could not be reached for comment.
Davidione Pearl
Freelance travel-writer, musician, photojournalist, philanthropist
Read More on
Volume 12, Issue 12, Posted 11:19 AM, 12.01.2020