Santa On Parade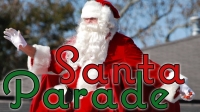 The City of Parma is unable to have the Christmas Parade this year due to the pandemic. So, two Parma councilwomen teamed up to bring a parade to your door with Santa On Parade.
On November 28, 2020, Councilwoman Kristen Saban had Santa tour her Ward 4.Santa was accompanied by the Parma Police Auxiliary with lights flashing and sirens blaring to announce the arrival of Santa, much to the enjoyment of the children.
Saturday, December 12, 2020, Santa will hold court at Rudy's Strudel & Bakery parking lot, located at 5580 Ridge Road from 11am to 4pm with hot cocoa and treats.
Sunday, December 13, 2020, Santa will parade through the streets of Councilwoman Debbie Lime's Ward 2. He will be escorted by the Parma Police Auxiliary with sirens blaring and lights flashing to alert you of his arrival.
Christmas Eve Jingle Event, an idea from Facebook. On Christmas Eve at 6pm step outside and ring a bell to spread the spirit and help Santa fly his sleigh.
Many thanks to Councilwomen Saban and Lime for bringing the holiday spirit to your Wards.
Kathryn Mabin
Board Secretary of Parma Area Fine Arts Council, Inc, or PAFAC, and Artist/Jewlery Designer, Owner Aire of Oppulence.
Read More on News
Volume 12, Issue 12, Posted 11:19 AM, 12.01.2020