Governor DeWine At Pleasantview Care Center In Parma On Dec. 18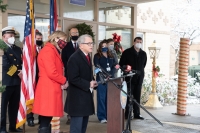 Ohio Governor Mike DeWine came to Pleasantview Care Center in Parma on December 18 in order to preside over the roll out of the first Coronavirus vaccine, to be administered to healthcare workers and residents there. Parma Mayor Timothy J. DeGeeter was there, safely distanced while watching outside on his I-Pad. Parma Fire Chief Michael Lasky was also in attendance. Both made comments in appreciation of the Governor choosing Parma as the place to recognize this extremely significant development in the production and distribution of a vaccine which couldn't come fast enough to our entire country, and represents finally a light at the end of the tunnel of what has been one of the most trying years in the history of Planet Earth.
Pleasantview Care Center is part of the Legacy Health Services family, based right here in Parma. they maintain appproximately 160 nursing facility beds, with 100 assisted living beds as well. There are currently around 235 staff members employed at this facility located at 7377 Ridge Road. It is good to see our Governor set foot in the 7th largest city in the State of Ohio in order to recognize one of our excellent senior care institutions available to our many vulnerable Seniors during this unprecedented time.
Daniel P. McCarthy
I am the publisher of the Parma Observer. Lifetime resident of Parma for over 50 years.
Read More on
Volume 13, Issue 1, Posted 4:05 PM, 01.01.2021