Chick-fil-A Honors Local Heroes At UH Parma Medical Center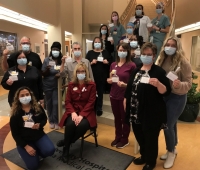 Chick-fil-A is awarding a year's worth of complimentary meals to 18 local heroes at University Hospitals Parma Medical Center, right across the street from its new Parma location. "It was such an amazing surprise!" said 25-year employee Maria Scheutzow, an RN in Infection Control who has worked non-stop behind the scenes of the pandemic to keep caregivers safe and implement protocols to protect our patients. "What fun it is to be given an unexpected and undeserved gift, especially in the midst of the pandemic fatigue we are all feeling right now." Chick-fil-A typically awards a year's worth of free meals to its first 100 customers at each new restaurant. To prevent crowds in advance of its Jan. 21 opening and honor local heroes during the pandemic, the Parma location at 6676 Ridge Road awarded one meal per week for an entire year to select employees of UH Parma.
UH Parma's recipients represent a wide cross-section of employees, who were selected through a random number generator and enthusiastically supported by their manager. They come from a variety of departments and job titles and include nurses, PCNAs, a medical assistant and a registrar/screener; respiratory and occupational therapists; radiology and sterile processing technicians; a phlebotomist; workers in maintenance, housekeeping and dietary; and a teacher from the Child Care Center. "I was actually born right across the street from my restaurant at UH Parma Medical Center, so I have a deep connection to this city and the people who live here," said owner Sheilla Lienerth, whose husband and children work in the franchise. "I look forward to taking good care of my Parma neighbors and team members, and I hope I can inspire them to also take good care of each other."
Erica Loucka, an inpatient occupational therapist who has worked at UH Parma for 19 years, couldn't believe her luck. "Are you kidding me?!" exclaimed Loucka, who has no Chick-fil-A close to her home but appreciates the new restaurant across the street from work. And her four children, ages 12 to 26, will be jealous. "It's so cool. It's a great thing to give back, and I'm really proud to represent the hospital. My kids are going to lose their minds, they love Chick-fil-A!"
Rescha Washington, a patient care nurse assistant in UH Parma's Behavioral Center for Older Adults, has been a longtime fan of Chick-fil-A and appreciates the convenience of the new restaurant. She was honored to be chosen for this award from a restaurant that reflects the family feeling of the community hospital where she now works. "I am fairly new to UH, but I feel very welcome and at home here," said Washington. "And I plan on being here for a long time."
Chick-fil-A Parma is located next to The Shoppes at Parma. It is open 6:30 a.m. – 10 p.m., Monday through Saturday, for drive-thru service with multiple lanes.
CJ Sheppard
Senior Communications Strategist, University Hospitals Parma Medical Center
Read More on Parma General Hospital
Volume 13, Issue 2, Posted 8:52 AM, 02.01.2021