Local Barber Who Has Helped So Many Now Enduring Intense Challenges Of His Own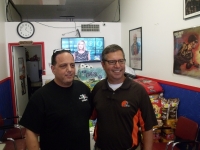 Parma barber Mario Innocenzi is known throughout our region for organizing charitable drives collecting everything from food to clothing to school supplies, and then getting them where they help people in desperate need. Hurricanes, floods and other natural disasters, Mario has himself driven trucks to stricken areas, as well as helping those who need assistance all over our local community. Recently Mario suddenly found himself facing serious challenges when he suffered a medical emergency that left him without the use of his lower extremities. Happily, after successful surgery at UH Hospitals, He is recovering nicely, faces a lot of physical therapy, and will miss a great deal of work while he recovers- up to 10 weeks. There has been a Go Fund Me account created- http://gofund.me/2f1d0fd7. Many people have already responded with donations, and hopefully many more will also, since a person like Mario who has helped so many certainly deserves a return of the many favors he has sent our way for all of these years.
Daniel P. McCarthy
I am the publisher of the Parma Observer. Lifetime resident of Parma for over 50 years.
Read More on
Volume 13, Issue 3, Posted 11:43 AM, 03.01.2021