Make Your Spring Garden Better & Deer Resistant!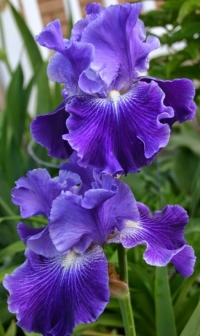 We're all looking to a warm and sunny Spring. Those first warm breezes refresh both the gardener and the garden, but many of us have a love-hate relationship with deer. No plant is impervious to deer browsing but the least damaged by deer have one or more traits that deer dislike. In general, ornamental grasses make a great deer resistant plant, because of their thin tough, sharp edged foliage. Pastel colors, such as pink, lavender and white create a classic Spring look. These soft colors are easy to mix and match, but swap out the tulips (deer love the petals) for daffodils and irises which deer shy away from. Hyacinths are one of the very few bulbs that can legitimately be called deer proof. The bulbs are poisonous to deer and squirrels. Typically, deer tend to stay away from eating peonies due to the strong flavor. Other plants deer tend to avoid include crocus, Glory-of-the-snow, Snowdrops, and Grape Hyacinths.
Spring blooming plants come in all shapes and sizes, from large flowering shrubs to tiny bulbs. So as one can see, one can have a great Spring garden and enjoy the deer. But I've only scratched the surface of what makes Spring gardens so special. For more ideas that will aid your Spring Garden, check out the local group "Dig, Plant and Grow" on Facebook with 300 novice and seasoned gardeners.
Emery Pinter
Worked in marketing research, marketing, and was a Librarian and Bookstore Manager.
Read More on
Volume 13, Issue 3, Posted 11:43 AM, 03.01.2021