UH Parma Child Care Center Earns Top Quality Rating From State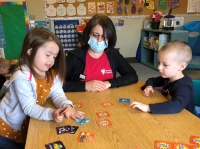 A child has fewer than 2,000 days from birth to beginning Kindergarten to develop the social, emotional and educational skills for an impactful start in life. University Hospitals Parma Medical Center's Child Care Center has been awarded Five Stars in state rankings for providing the highest possible advantage to the 170 children under its care.
Step Up To Quality, administered by the Ohio Department of Education and the Ohio Department of Job and Family Services, recognizes programs that exceed licensing and safety regulations for early childhood care and education. Program ratings, based on national research for improved outcomes, range from one to five stars. UH Parma's program – which has cared for the children and grandchildren of employees for nearly 40 years and expanded to serve the general public in 2007 – received Five Stars.
Five-Star programs are distinguished by:
Lower staff/child ratios.
Lead teachers with degrees or related education certificates
Intentional and purposeful lesson plans aligned to Ohio's Early Learning and Development Standards
Educational portfolios for each child and regular developmental assessments
Ongoing staff training and professional development
Community involvement and parent engagement
"Earning 5 stars with Step Up To Quality, the highest rating available in Ohio, is a tremendous accomplishment," says Manager Leah Anastasakis, M.Ed. "To be able to achieve that during a pandemic is a true testament of our staff's dedication to providing a quality program. Every single teacher stayed focused on the needs of their students and families throughout the pandemic, a remarkable team meeting an unprecedented period with grace and compassion."
Participants in UH Parma's Child Care Center range in age from 6 weeks to pre-Kindergarten, with school-age children up to 12 attending during school breaks. All lead teachers have education degrees or related certificates. Children are grouped in classroom settings for younger and older infants, toddlers and preschoolers. Staff-child ratios were adjusted when the pandemic began to continue providing child care for essential workers.
UH Parma's Child Care Center utilizes the Creative Curriculum, widely regarded as a forward-thinking, comprehensive, rigorously researched curriculum approach that honors creativity and respects the role that teachers play in making learning exciting and relevant for every child. The Creative Curriculum strives to create a high-quality learning environment that enables every child to become a creative, confident thinker.
CJ Sheppard
Senior Communications Strategist, University Hospitals Parma Medical Center
Read More on Parma General Hospital
Volume 13, Issue 5, Posted 3:43 AM, 05.01.2021