Forget Dr. Google: Women's Health Nurse Practitioner Answers Pressing Questions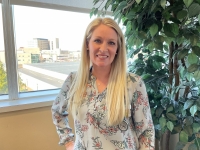 Women often ask the most pressing questions as they're leaving their health care provider's office. Call them hand-on-the-doorknob moments. That's what Lindsay Brown, a UH women's health nurse practitioner who works with OB/Gyn Steven Galun, refers to them as, and she gets them often. In this past year of pandemic isolation, where many women have been physically and emotionally distanced from their sisters and friends, the connection to one's health care professionals is most vital. "Women ask their most pressing questions when they feel most comfortable," says Lindsay. "During the exam and consult, they're still getting to know you and build a rapport. But when they're getting ready to leave, and they're feeling more comfortable and relaxed, they ask the questions they've been holding inside. There is a level of trust there."
Questions run the gamut, from sexual health and relationships to hormonal matters and mental health. Like men, women often are concerned about low libido and decreased sexual desire, which can stem from complex myriad of physical, emotional, or relationship issues as underlying causes. Some women experience painful intercourse as a result of vaginal dryness, pelvic muscular or skin disorders, or exasperating menopausal hot flashes and night sweats. They may even ask about their husband's testosterone levels.
Other women are worried about relationships, struggling with concerns about their partner's fidelity and fretting about sexually transmitted diseases. Or they are having trouble getting pregnant and just don't know what to try next. And then there are mood matters like anxiety and depression. "When patients don't know you ahead of time, they're trying to make a connection and feel comfortable and may be uncertain of how to bring up their burning questions," says Lindsay. "They want to be reassured their voice matters, their concerns are important and that you will listen."
When so many people are turning to "Dr. Google," Lindsay is a friendly face and a comforting human alternative, a health care professional with decades of experience who can discuss your most pressing questions in person. Lindsay has bachelor's and master's degrees in nursing and is board-certified as a women's health nurse practitioner. She can provide care for women of all ages, from first-time gynecological exams and contraception counseling to obstetric care and well woman exams. While UH Parma Medical Center no longer offers labor and delivery services, expectant mothers can receive all their care through Lindsay's office and deliver at UH Macdonald Women's Hospital downtown.
Lindsay also sees woman struggling with a myriad of post-partum issues, from changes in their bodies after childbirth to post-partum depression. And when their bodies change during menopause, they turn to their girlfriends or the internet. "Checking Google is not always the best resource for health information," says Lindsay. "For those who make an appointment, I will take the time to really listen and address their concerns. Many situations are complicated and difficult to figure out through researching online or just talking to your girlfriends. These are matters that involve complex relationships, and not just one person. Often we see smiles of relief at the end of the appointment."
Lindsay sees patients in locations on both west and east sides. Call 440-743-8140 to make an appointment with Lindsay on the UH Parma Medical Center campus in Medical Arts Center 4, 6115 Powers Blvd., Suite 306, or at the UH Solon Health Center. 34055 Solon Rd, Suite 204.
CJ Sheppard
Senior Communications Strategist, University Hospitals Parma Medical Center
Read More on Parma General Hospital
Volume 13, Issue 6, Posted 11:21 AM, 06.01.2021