UH Parma Medical Center Officially Designated As A Level III Trauma Center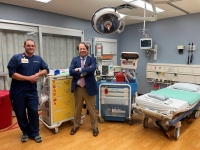 University Hospital's Parma Medical Center has been officially designated by the State of Ohio as a Level III Trauma Center after a successful evaluation from surveyors from the American College of Surgery's Verification Review and Consultation Program. Level III trauma centers can provide care to the majority of patients sustaining minor to moderate injuries and can promptly assess and stabilize those with severe injuries requiring a higher level of care prior to transfer to UH's Level I Adult and Pediatric Trauma Center at main campus.
An estimated 85 percent of injured patients could be treated at their local community hospital if it is certified for trauma care, according to national statistics, said David Linz, MD, Trauma Medical Director, UH Parma Medical Center. Dr. Linz is among four trauma surgeons at UH Parma. In addition, nurses in the Emergency Department, ICU, Surgery and post-surgical recovery floors have received specialized training in trauma care. UH Parma Medical Center also is certified for stroke care by The Joint Commission and chest pain by the American College of Cardiology.
"This is a huge milestone for both the medical center and the community," Dr. Linz said. "Any injured patient can now rest assured that they are being cared for in a hospital with highly trained staff that is certified in trauma, in addition to chest pain and stroke care. This is the culmination of more than two years of dedicated work by UH Parma's health care providers, with essential support from the UH health system."
A Level III Trauma Center is noted for:
Continuous coverage by general surgery
Access to multiple specialties, including surgeons who can cover orthopedics, neurosurgery, thoracic and ENT
Ability to manage the majority of injured patients
Active prevention outreach with referring communities
Continuous trauma education for nurses, physicians and allied health care workers
Transfer agreements with Level I and Level II trauma hospitals for patients that exceed its patient care resources
"It is an absolute honor to be the first-ever ACS-accredited trauma hospital in the city – a huge benefit to our patients and first responders in the communities we serve," says Jack Myers, RN, Trauma Coordinator at UH Parma. "This upgrade in emergency services gives us the ability to keep more patients closer to home, providing more personalized health care and enhancing our already robust complement of comprehensive services. Being a Level III Trauma Center also allows our EMS to return more quickly to serving our residents and responding to 9-1-1 calls."
Patients with more severe injuries can be stabilized before transfer to Level I adult and pediatric trauma centers at UH Cleveland Medical Center or UH Rainbow Babies & Children's Hospital, respectively. Across the UH system, Level III trauma centers are in operation at UH Geauga Medical Center in Chardon, UH St. John Medical Center in Westlake, UH Portage Medical Center in Ravenna and Southwest General Health Center in Middleburg Heights.
UH, along with the Cleveland Clinic and MetroHealth Medical Center, is a member of the Northern Ohio Trauma System, which coordinates trauma care across Cuyahoga County and the surrounding seven-county region.
CJ Sheppard
Senior Communications Strategist, University Hospitals Parma Medical Center
Read More on Parma General Hospital
Volume 13, Issue 7, Posted 8:43 AM, 07.01.2021