Cardiac Surgery And Cardiovascular Specialty Services Expanded At UH Parma Medical Center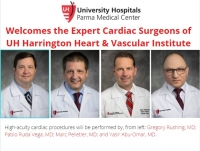 The existing strong cardiology program at University Hospitals Parma Medical Center is being reinvigorated by the top-rated cardiac surgery team of UH Harrington Heart & Vascular Institute. This expansion of cardiac services will allow patients to remain in their community for specialized care rather than traveling to UH Cleveland Medical Center for advanced procedures.
A core team of four highly skilled surgeons from UH Harrington Heart & Vascular Institute is now established at this southwest suburban hospital to perform advanced coronary artery bypass graft surgery, aortic and mitral valve surgery, and minimally invasive surgery, among other procedures. They are performing procedures in specially designed operating rooms that are part of the $27.5 million renovation of the Surgical Services Department. Cardiac catheterization labs have already been upgraded and a renovated suite for electrophysiology procedures is being planned.
The expanded team of cardiac surgeons consists of: Gregory Rushing, MD; Pablo Ruda Vega, MD; Marc Pelletier, MD; and Yasir Abu-Omar, MD. This team complements the outstanding diagnostic and treatment services that have been provided at UH Parma since the hospital began offering cardiac surgery and high-risk catheterizations in 1999. Their sub-specialties include:
Gregory Rushing, MD, Director, Heart Surgery Center, UH Parma, trained at Johns Hopkins and the Cleveland Clinic and was Assistant Professor of Surgery at The Ohio State University Medical Center – Expertise in surgical treatment of atrial fibrillation, transcatheter aortic valve replacement (TAVR), aortic surgery, coronary artery bypass grafting (CABG). Dr. Rushing will be the lead surgeon at this location. He is also developing a surgical atrial fibrillation center that will provide novel approaches to patients dealing with atrial fibrillation.

Pablo Ruda Vega, MD, trained at Cleveland Clinic, and worked in Buenos Aires, Argentina, before returning to Cleveland – Expertise in off-pump coronary artery bypass grafting (CABG), aortic valve surgery, aortic valve repair, hybrid revascularization

Marc Pelletier, MD, Division Chief, Cardiac Surgery, trained at McGill University and Stanford University and worked at Stanford University Medical Center and Brigham and Women's Harvard Medical School program – Expertise in minimally invasive mitral valve, aortic valve repair/replacement, TAVR, heart transplant, complex cardiac surgery
Yasir Abu-Omar, MD, Director of Cardiothoracic Transplantation and Mechanical Circulatory Procedures, trained at Cambridge and Oxford universities and worked at Royal Papworth Hospital in Cambridge, one of the world's leading transplant centers – Expertise in advanced heart failure, heart/lung transplant, minimally invasive mitral valve surgery, complex cardiac surgery
"We are excited to embark on a new era in cardiac surgery at UH Parma Medical Center," says Dr. Pelletier. "We are fortunate to join a very talented team of cardiologists, who perform very complex and technically challenging procedures. Our team will only enhance the already excellent care provided by these cardiologists, nurses and other health care professionals at this hospital, which is proud to be known for cardiac care. Our surgeons are committed to this program, to provide a higher level of care for patients in their local hospital, increasing their accessibility and decreasing their need to travel far from home."
UH Parma's program – already accredited by The Joint Commission for Chest Pain – also will feature three outpatient clinics for heart patients: one for patients with cardiac surgical disease including atrial fibrillation; one for evaluating and treating advanced heart failure; and one for implanting and monitoring cardiac devices. Cardiologist Ravi Ramani, MD, of the Advanced Heart Failure Clinic will treat patients with severely reduced ejection fraction or refractory heart failure, or struggling with recurrent admissions for heart failure. Drs. James Ramicone and Shashank Jain in the Cardiac Device Clinic will have the ability to interpret new implants and perform follow-up checks both in person and remotely on pacemakers, implantable cardioverter defibrillators (ICDs) and CRT-D devices for cardiac resynchronization therapy. A new documentation system called Paceart can track patients' medical devices to notify them when they should be upgraded or replaced, and whether they would benefit from cardiac ablation or need referral for heart failure treatment.
Mehdi Shishehbor, DO, MPH, PhD, President of UH Harrington Heart & Vascular Institute, echoes the organization's commitment to the southwestern Cuyahoga County suburbs surrounding UH Parma Medical Center. The transformational renovation of surgical suites, along with pre-and post-operative areas at the hospital included the completion of an operating room designed to accommodate high-acuity cardiovascular procedures.
"UH Harrington Heart & Vascular Institute is fully committed to providing the highest-quality cardiovascular and open-heart surgery to patients at UH Parma Medical Center," says Dr. Shishehbor. "With the $27.5 million renovation of Surgical Services at the hospital and the clear need for expanded cardiac surgery, the time was right to bring these services to UH Parma."
Call 216-844-4004 for an appointment.
CJ Sheppard
Senior Communications Strategist, University Hospitals Parma Medical Center
Read More on Parma General Hospital
Volume 13, Issue 8, Posted 9:37 AM, 08.01.2021