Orange Peels And Skunks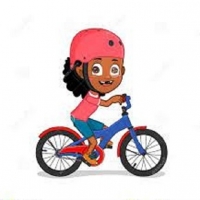 "Hey YOU!" "Hey YOU back!" I shouted. As I turned to see who was calling out with such a loud voice, there appeared an adorable little girl. She came barreling up the sidewalk on her two wheeler bicycle headed right to my driveway. Apparently, my drive had become the official turn around point and "that's as far as you are allowed to travel" location. It had been sometime since I saw children playing in the neighborhood. Children who are now older and heading off to college. It was good to see little ones once again.
"You sure can ride that bicycle pretty good for such a little girl. May I ask how old are you?" "I'm SIXZZZ," enunciating as precisely as she could in spite of missing four of her front teeth. "I'm going into kindergarten this year." "Are you starting kindergarten at Thoreau Park School?" I smiled. "YESZZZ," she said with a huge smile. "Well, I went to Thoreau Park School when I was your age and my children went there too." Her eyes got big as saucers as she began to look around. "Well! Where are they? Your kids. Where's your kids?" "Oh, they are adults now with children of their own, and I am a grandmother!"
She was trying not to laugh. I wasn't quite sure why until she announced, "OHHH, I'm not old enough to be a gramma! NOT for a LONG time! I'm not as old like you are!" No longer could I hold my laughter back and neither could she. We both ended up laughing together for reasons quiet different from one another! It felt good to laugh. With the constant unsettling news in today's world, this child's conversation was refreshing to my spirit and soul. She was carefree, hopeful, eager, and just downright pleasing in a world that seems to be turned upside down.
In my hand, I had a few orange skin slices, which I was placing around my flowerbed to keep the skunks away. "What's that in your hand?" she stood on her tiptoes trying to see. "Orange peels!" The look on her face priceless.
"WHY?" she frowned. "Did you eat the oranges? My mom says you should throw them away in the trash NOT on the ground." I squeezed one of the orange peels releasing the fragrance of orange blossoms. "Would you like to smell the orange peel?" The fragrance of citrus lingered between us in the hot humid air. "OH-H, that smells good! Skunks like oranges. I have a skunk, but I can hold her and it's OK for me to pet her!" she told me while nodding her head up and down confirming this was true! I was quite sure she saw my concerned expression when she announced that she had a pet skunk. "A real alive skunk," I questioned. "Yup, real! She doesn't bite though. So you don't have to be afraid! I will bring her with me next time." Perhaps her skunk, who also liked oranges, is a toy? I'm HOPING!! Just then she heard her friends calling her name. Quickly, she turned her bike around to ride away. She shouted out with a voice that could be heard several streets away, "Bye, I'll come back and help you, but NOT today, okay!" Her laughter, excitement, and smiles were contagious. If only for a few moments in time, I joined in her innocence and love of life, completely free from the cares of the day.
"The soul is healed by being with children." Fyodor Dostoevsky

Susan Banks - Yurik
I am a Parma resident. Attended Thoreau Park Elementary, Pleasant Valley Jr. High, Valley Forge Senior High, Parma Senior High, and Tri-C. I am retired; have been published in Guideposts, Mysterious Ways and Angels On Earth. I also create Iconographic style drawings ~ Prama Artspace Gallery. My son was a Navy Nuke, my daughter was Miss Parma, and runner up to Miss Ohio. Three generations of our family attended Thoreau Park Elementary School, Schaaf Jr. High School and Parma High School. I love living in Parma, and I especially enjoy the city's unique European ethnicity. Visit my blog at angelssignsmiracles.blogspot.com ~ Nani's Got The Tea ~ or drop me a note at galpublished@gmail.com. Blessings.
Read More on Opinion
Volume 13, Issue 9, Posted 3:49 PM, 09.01.2021